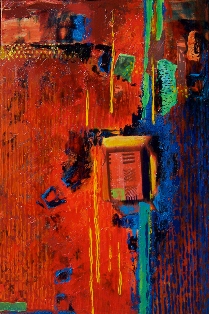 by Sasha Irving
 
Fine wine and fine art make the perfect blend with "An Abstract Affair," the current exhibition at The Gallery at Vina Robles. Showcasing the abstract works of local artists Teresa Willenborg and Janice Pluma, the exhibit runs through March 31. The public is invited to attend the artists' reception this Friday, January 25 from 4 pm to 6 pm at the Vina Robles Hospitality Center in Paso Robles.
Both featured artists have been passionate about creating art all of their lives.
 
Janice is a mixed media painter and graphic designer, living and working in Paso Robles. She says, "I'm excited at the opportunity to show my work at this beautiful venue and to be sharing the exhibition with Teresa, whose talent I admire.  For many years, even before recycling became prevalent, I scoured fields, salvage yards, my neighborhood...any place that might be a source of non-traditional materials for my art. I think combining acrylic paint with metal, fabric, paper, glass - or whatever sparks my imagination, adds extra interest and dimension to my work." Janice is past president of the Paso Robles Art Association and a member of the International Society of Acrylic Painters, SLOMA and Arts Obispo.
 
Teresa Willenborg is an abstract artist and the wife of Vina Robles' winemaker Kevin Willenborg. Her paintings in oil, acrylic and mixed media explore inner life and imagination through the use of color, texture and contrast. "My work is influenced by nature or rather the experience of nature," Teresa explains. "For example, painting what it feels like to be inside a wave or forest, not only looking at it, connotating a reverence or experience of transcendence, a oneness." While remaining open to new ideas, she allows her work to lead her to authenticity.
 
The Gallery at Vina Robles is a dedicated 1,800 square-foot space that features rotating exhibits from a variety of accomplished local artists.  "Art and wine are a classic pairing that we want to celebrate in the Paso Robles wine country," said Vina Robles Managing Partner Hans-R. Michel.  Experience it for yourself with "An Abstract Affair"!
Sasha Irving is the Programs Director of Studios on the Park and the Coordinator of the annual Paso Robles Festival of the Arts. Proud to be a native Paso Roblan, she is also a member of Balet Folklorico Cachanilla and an usher at Old Mission San Miguel Arcangel.  For more information please visit http://www.studiosonthepark.org/ or call 805.238.9800.