Five Fantastic and FREE Things to Do in San Luis Obispo County

Paso Robles
Bike the many country roads of wine country! Get out and explore the beautiful vineyards on two wheels! Some wineries, like J. Lohr, even have free tastings every day for a few pit stops along the way.
San Luis Obispo
Hike up Reservoir Canyon and discover the biggest waterfall in the county! The trail is 6+ miles round trip and is rated moderate to difficult. This trail is best in the spring when wild flowers are abundant and water levels are high. Follow the creek down stream to see two small water falls, the second cascading in front of a 70 foot deep cave.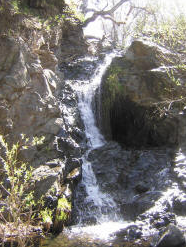 San Simeon
Watch the Elephant Seals on the beach. What is an elephant seal? A deep-sea diver, a long distance traveler, an animal that fasts for long periods of time; elephant seals are extraordinary. The more you learn and see about these animals the more you will say WOW! At San Simeon beach, you will witness often hundreds of elephants seals snoozing, playing, or sunbathing.
Templeton
Visit the wonderful Art Gallery behind Castoro Cellars Tasting Room! The work of Maeve Croghan will continue to be viewable this April 2012. As the recipient of numerous juried awards, Maeve's paintings are shown and collected throughout the country. Castoro Cellars in Templeton, CA, has chosen her work to grace their award-winning wine-bottle labels. 
San Miguel
Travel back in time and experience the historic Mission San Miguel and grounds originally built by in 1797! Mission San Miguel is one of California's historical and cultural treasures and is beautiful in its rich history and aesthetics.