The holiday season is here and we understand it can be overwhelming trying to decide on a menu—SLO CAL is lucky to be home to so many local gems to choose from after all!
To save you time (and give your taste buds more reason to party) here are 5 enticing food and wine pairings perfect for your holiday celebrations. Impress guests with these crave-worthy combinations: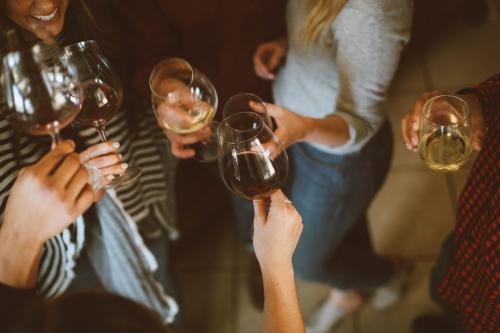 Acid + Acid
Unlike bitterness, acidity can be added together with food and wine to create a dreamy pairing.
Pro tip: If the wine has less acidity than the food, the wine will taste flat. When pairing a dish with wine, consider the acid balance between the food and the wine.
We recommend: 2017 Chardonnay Bien Nacido Vineyard, Kynsi Winery
Sweet + Salty
If you're a fan of maple bacon, candied pecans, and salted caramels, you're not alone. Pairing a sweeter wine with a salty dish is designed to delight you. Pour a Riesling with fried rice and Pad Thai or consider serving  a dessert of pretzels and tawny port.
We recommend: 2018 Dry Gewürztraminer, Claiborne & Churchill
Bitter + Fat
Grab a big thick piece of fatty something-or-other and pair it with a wine full of tannin. Think classic steak with red wine food pairing but elevated. Pair a red wine bursting with cherry notes with an herbaceous potato croquette and roasted red tomatoes. Your dish will be perfectly balanced and leave your guests' mouths watering.
We recommend: 2017 Syrah, Wolff Vineyards
Acid + Fat
There's nothing quite like a glass of bubbles to cut the fat. A high-acid beverage will add a range of interesting flavors to a lipid heavy dish. This is why white wine butter sauce is so popular, it naturally brightens up the whole dish. So when you're serving something decadent like cheesecake, be prepared to give your guests a tall flute of something sparkly.
We recommend: Non-Vintage Sparkling, Biddle Ranch Vineyard
Alcohol + Fat
The category is a bit of an odd one. The alcohol taste actually comes across as acidity, so many of the same tenants of the Acid + Fat category pass over into Alcohol + Fat. The primary difference bring that a high-alcohol beverage should not be served as a palate-cleanser—that's a little strong for a holiday gathering (unless you want to relive Aunt Alice's lampshade burlesque act). Instead, look at an Alcohol + Fat category as a way to mitigate high-speed food consumption—after all, you didn't spend hours cooking a delicious meal to see it gobbled up in less than 10 minutes. A glass of 17% ABV Zinfandel will greatly slow down the rate at which you consume your pepper steak. Typically, we see this category often for dessert pairings, but as we learn to eat slower and enjoy meals longer, Alcohol + Fat is the go-to combination.
We recommend: 2017 Mustard Creek Zinfandel, Peachy Canyon
Not hosting this year? You can't go wrong when you show up with a sparkling rosé in hand.
We recommend: 2016 Laetitia Brut Rose, Laetitia Vineyard & Winery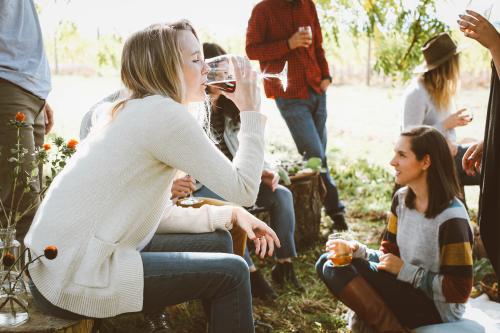 The holidays are a time to splurge. Go for big flavors and bigger flavors. But don't let the seemingly endless options intimidate you. Trust your instincts. We raise our glasses to you!