FRESH! at the Markets

Fasten your seatbelts Farmers' Market Shoppers, summer's here and the produce is BOUNTIFUL! As usual, the weather (especially temperature) controls the exact arrival dates of the various crops, but there is plenty now and even more coming in the next couple of weeks. In an ironic twist, the coastal berry growers (raspberries, boysenberries) are hoping for warmer days (and especially nights) to finish ripening their crops for market, while valley cherry growers are hoping for cooler days to prolong their season for another week or two. We'll see...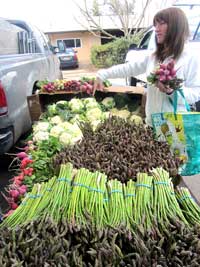 Vegetables
June will bring us lots of choices. Look for -
Green beans
Cucumbers (green and lemon)
Brussels sprouts (check the recipe below)
Tomatillos
Zucchini
Yellow squash
Garlic
Radishes
Kale
Basil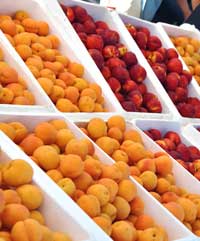 Fruits and Berries
Stone fruit from the valley and local farms will be plentiful, and local berries are ready for Market as well. Check out the -
Apricots
Pluots
Nectarines (yellow and white)
Peaches (yellow and white)
Raspberries
Boysenberries
If you find Cherries still in market - grab 'em. It could be your last chance!

Seafood
Look for Fresh salmon and rock cod this month.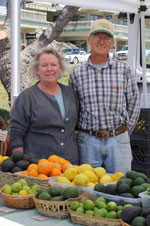 Dos Pasos Ranch
Beth Kendall is back in Markets with...

Avocados
Navel oranges
Tangerines (several varieties)
Lemons (Lisbon & Italian)
Limes (Bears & Palestine sweet)
Gourds
Nopale
Look for her in Templeton and Paso Robles.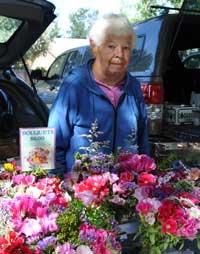 Country Elegance
Ellen Scoville is back in the Templeton Market with her lovely flowers.