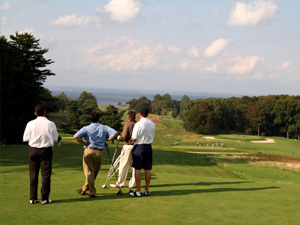 Golfers, if you haven't discovered this hidden gem in Atascadero you need to throw the clubs in the car (What am I saying? They're already IN the car!) and head for Chalk Mountain in Atascadero. It first opened in 1980 and is laid out amid mature oaks, sweeping hills and a meandering creek. Great fun whether you're a pro or just getting started.
CMGC is tucked away of historic El Camino Real on the south end of Atascadero at 10000 El Bordo Road. You have to watch carefully for the sign which references Hans Heilmann (a former county supervisor and Atascadero resident closely associated with the course and the adjacent Hans Heilmann Regional Park). Here's the map.
Of course, there's a pro shop and a driving range. It's really a beautiful, peaceful setting.
It's really affordable and there's always something going on. Like Senior Mondays ($15 to walk, $27 to ride). Every other Wednesday it's the Bellman Open. Make your tee time, golf with your friends, 2 man better ball blind draw and gross and net skins!
Oh, yes, and happy hour every Thursday night is 4 p.m. to 7 p.m.
If you get the SLO Golf Card you get three great courses for one low price. Golf Chalk Mountain, Dairy Creek and Morro Bay. Three rounds, 10 guest passes and save 40-50% on your green fees. And SLO Golf Card holders participate in special Monday events. Bring your group out to golf and enter to win big!
Get the scoop on the Chalk Mountain Golf experience by calling (805) 466-8848 or visiting www.ChalkMountainGolf.com.
Get Stuck On Us !in Atascadero CA at the Chalk Mountain Golf Course!