This past Thursday, my wife, daughter and I enjoyed the premier of "A Crock of Gold" at the Melodrama, followed by their Vaudeville Review "The Great Oudoors". I am mathematically oriented, so I have to say that 3 Heroes + 2 Heroines + 1 villain = 1 great Time.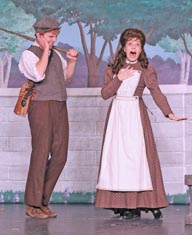 The show was nearly sold out, and the entire audience (including several kids over 5) seemed to love the play. Every summer, the Great American Melodrama always does two different melodramas (on alternating evenings), in which there is bad guy, a good guy (the hero) and of course, a heroine.  This literally gives the audience a chance to boo and hiss the villain, cheer the hero, and sigh for the heroine as she shows her love for the hero. (Audience is coached beforehand on how to do this properly.)
This play differed only in that there were no less than THREE heroes to cheer, as well as TWO heroines  to sigh for. The villain was really villainous, with no redeeming qualities whatsoever, so it was emotionally satisfying to boo him. (Oh that real life were so simple and direct...)
The vaudeville review that followed was also great. I don't want to give anything away, but look for the funny skit on what animals do when people are not around, as well as the hilarious "Chicken Song".