This past Thursday night, my wife and I were able to attend the opening night premier of the delightful Mystery-Comedy "The Tavern". The play literally happens during a dark and stormy night, when two VERY strange strangers show up at a Tavern. And I use the term "strange strangers" intentionally. Mysterious yes, but WHAT are they? And do they know each other?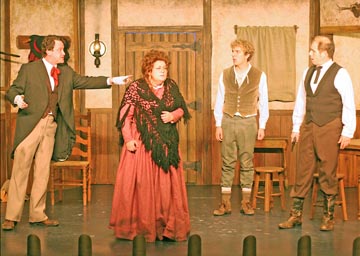 As usual, the entire cast is great, and the play was a lot of fun. Chuck McLane in the lead role gave an over-the-top performance as the main character. The Vaudeville review afterwards included a great skit of Arnold Schwarzenegger working as a travel agent who won't let customers travel anywhere but in "Kahlifornia."  The packed audience obviously loved the entire show. The couple sharing our table live outside SLO county, but are thinking of becoming season subscribers, since they love to attend so much.
Housekeeping details: "The Tavern" is now in rotation until mid-September with the Melodrama "The Crock of Gold" (reviewed earlier).  Both plays are great: Melodramas are fun as they let the audience boo the bad guy, cheer the good guy and sigh for the heroine. Check the
Melodrama website
to see days and times of both great plays. Food, wine and beer are available for purchase.