Treat your family to fall-themed fun and frights
When it comes to picking the best pumpkin, beauty is truly in the eye of the beholder. Whether you prefer yours smooth and round, bumpy and spotted, or miniature and white, you'll find your perfect gourd at SLO CAL's festive pumpkin patches. But wait, there's so much more than jack-o-lanterns to marvel at around these parts. Stick around for hayrides, corn mazes, fall produce and horrifying haunted houses, too. Whatever your age, it's never been a better time to get spooked in SLO CAL!
Avila Valley Barn – Avila Beach
Pumpkins and ponies: Avila Valley Barn in Avila Beach isn't just a great place to pick up a fresh-baked pie on the way to the coast. Come fall, this quaint country farm-stand transforms into a stunning display of pumpkins, gourds, and fall produce, including delicious apples (and apple cider). Enjoy a tractor ride around the picturesque property before taking a romp through the pumpkin patch. Other attractions include hay mazes, pony rides and plenty of friendly farm animals—including cows, goats, miniature horses and chickens—looking for a free meal.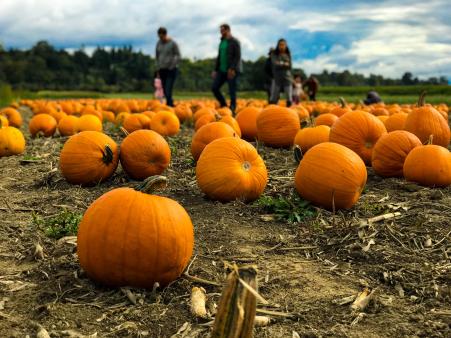 Brookshire Farms – San Luis Obispo
All-day fun for everyone: Brookshire Farms is located on the border of San Luis Obispo and Los Osos, this popular patch is rife with activities—and there are so many to choose from! Although anyone can buy the patch's pre-harvested pumpkins, admission to the farm adventure area gives you and your little ones all-day access to hayrides, inflatable slides, rubber duck races, plus an obstacle course, playground and a corn maze. Tip: Bring your flashlights to explore the maze at night (if you dare).
The Haunt – Atascadero
This is not your uncle's corny makeshift haunted house: The Haunt in Atascadero is an ever-evolving, interactive theater experience sure to get you screaming. Expect intimate, personal, and truly horrifying experiences. To keep it creepy, only small groups are allowed in, and you'll never know what's in front or behind you. Depending on your own freak-factor, choose from a regular show, lights-on tour (no scary monsters), or the "night terror tour," with just a lantern to guide your way.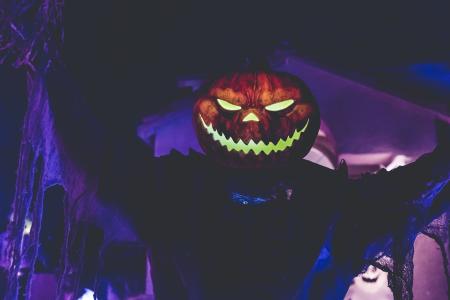 Cheesebrough Farm - Templeton
You can't miss it from the road: At Cheesebrough Farm in Templeton, adorable scarecrows stand guard over more than 60 varieties of pumpkins, gourds and winter squash. Discover an old-fashioned roadside stand experience with modern perks, like customizable pumpkin scarring (think of it like a pumpkin "tattoo"), and even a pumpkin and winter squash cookbook you can take home. Speaking of dinner, pick up a few armfuls of edible squash and corn grown onsite!
Jack Creek Farms – Templeton
Have a little Picasso on your hands? Don't miss Pumpkin Palooza at Jack Creek Farms in Templeton, where the arrival of autumn signals splatter paint and feathers. Your ticket to the Saturday, Oct. 5 event includes your pick of pumpkin, plus paint, glitter, glue, pom poms, ribbons, miniature hats and googley eyes to decorate with (as well as aprons, to keep everyone as clean as possible). Free activities also include a haystack, farm animals, wooden train, tractor tire garden, straw-bale ponies, sawhorses, dummy steer roping and a butterfly garden maze. The staff takes care of the mess, so your kids can make memories. That's right. Glitter for everyone!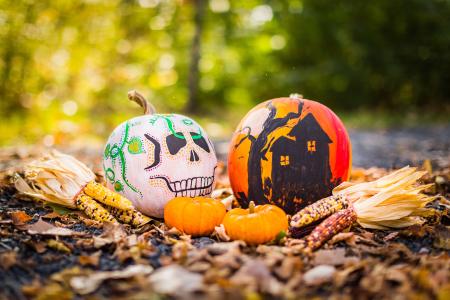 Nipomo Pumpkin Patch – Nipomo
Big, small and every size in between: Looking for a patch chock full of affordable pumpkins ranging in size from four ounces to 200 pounds? Head to Nipomo! The Nipomo Pumpkin Patch in southern SLO CAL is all about the old school art of growing gourds. You might even learn a thing or two to up your own gardening game. It's the Great Pumpkin, Charley Brown, indeed! Let me tell you—a selfie with a 200-pound pumpkin is liable to get a lot of likes on Facebook. Selfies are encouraged!
River K Pumpkin Patch – Paso Robles
Room to roam: When a pumpkin patch has been around for some 50 years, can you be pretty sure it's well worth the visit. Sure, you'll explore a vast array of pumpkins of all textures and sizes as well as enjoy festive hayrides at this Paso Robles mainstay. But the real star of the show is a massive corn maze stretching more than three acres. Yes, we said that right. Three acres! Be careful: it's easy (and fun) to get lost!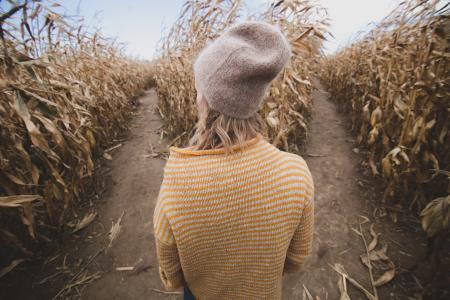 Nightmare on Main Street – Templeton
Bloodcurdling fun: Now in its ninth year, the Nightmare on Main Street in Templeton offers a sophisticated shock to the senses. Hosted within an abandoned, 120-year-old house in Templeton, it might be one of the scariest and surreal haunted house experiences on the Central Coast. Expect additional spooky maze structures and lots of mind-bending suspense. You won't know what's real and what's a dream—and that's the very best part.
Third Annual Harvest Festival - San Luis Obispo
Slow down hoedown: Celebrate the harvest season with a slower pace! This Oct. 29, unplug the iPhone and meet the moment head-on. You're in for an interactive afternoon between farmers and the public, with plenty of cool stuff for the kids to get their hands on. Tour City Farm SLO, meet the farmers, grill your own ear of corn, and visit the you-pick pumpkin patch (hayrides also available). Take part in planting and harvesting activities, including a tomato toss, weed pulling (it's more fun than it sounds) and a pumpkin weight guessing contest. Plus: Enjoy live music by Miss Leo and her Bluegrass Boys throughout this free event. Don't forget to feed the resident chickens, visit the goats and--of course--pick up some fresh produce to take home.