All you need is your sense of adventure and these handy tips
Take some precious time for "me, myself and I." When the hustle and bustle of daily life grows too burdensome, turn to the quiet solitude of the SLO CAL life. Located conveniently on the coast of California at the midpoint between Los Angeles and San Francisco—offering up a scenic drive—your solo Highway 1 adventure is just a heartbeat away. Climb towering peaks, uncover secret waterfalls, stroll pristine beaches, cycle winding backroads and cultivate a renewed sense of mindfulness along the way. On our unique stretch of Highway 1, you'll reconnect deeply with the ocean, the wildlife, the historic land—and yourself.
Cruise to the music
Leave your worries in the rear-view mirror: Remember back in the day, when you'd curate a fist-pumping mix of your favorite songs just to get yourself in that perfect mood? It's time to get back in touch with your fun-loving, soulful side! We recommend bringing along a breezy playlist that speaks to your sense of adventure (we promise, no one will see you belting out old school hits in your car). No time to create a mix? No worries. We've created a spectacular Spotify playlist for you. Now, it's time to burn rubber. Spend the day cruising along Highway 1, stopping for elephant seals and historic piers and lighthouses along the way. With the tunes blasting, you'll discover the sun-splashed heart of SLO CAL, where jaw-dropping vista points await you at every turn-off.
Hit the road
This isn't any old joyride; think of Highway 1 as "the scenic route" on steroids. In fact, SLO CAL's Highway 1 Discovery Route features 87 miles of coastal wonders perfect to explore on your solo trip. Hug the ocean as you motor along the coast and take in undulating hills. Not to brag, but the US Department of Transportation considered this stretch of Highway 1 special enough to be designated one of America's Scenic Byways. Surely, you can see why!
Take some "Me" Time
Who said sight-seeing can't be a blast by yourself? If you can't remember the last time you actually got to do everything you wanted to do on your own vacation, allow SLO CAL to be your personal playground. Finally, you can live out your heart's desire (with no one trying to convince you otherwise). Here's our idea of bliss: Stop for a leisurely lunch at Ragged Point Inn, taking in a perfect selfie photo opp, stroll the eclectic art galleries in Cambria pausing to ponder for as long as you like, then head to the small village of Harmony (population 18, if you count the cows), where glassblowers create colorful one-of-a-kind art pieces. End the journey with a soak at Sycamore Mineral Springs and Spa in Avila Beach or with a well-deserved treat courtesy of Brown Butter Cookie Company in Cayucos.
A room with a view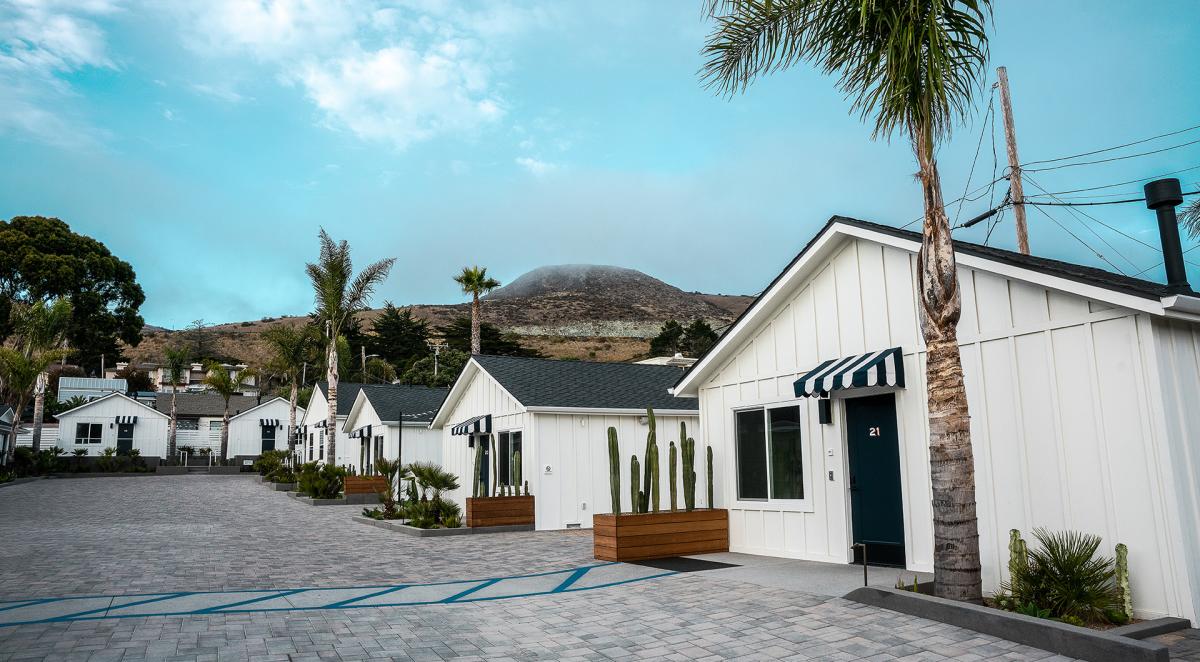 Find a cozy nook or a picture-perfect palace when you book SLO CAL's unique inns, bed and breakfasts and vacation rentals. From sprawling pads complete with a yard for stretching out to coastal bungalows nestled along the sand, you'll find a happy home away from home here. Want to invite Fido on the adventure? Dog-friendly rooms are available and you and your four-legged friend can take on a slew of exciting activities along Highway 1! Woof.
Explore on two wheels
It's a rush: Hop on your bike and pedal into a cycler's dreamscape. SLO CAL's uncrowded coastal bike routes offer up a fresh way to explore sandy beaches, beautiful bluffs and local wildlife all while carrying just one passenger, Yours Truly. Bicycle enthusiasts from around the globe make the trip to SLO CAL's North Coast to take advantage of the range of diverse routes backdropped by rocky cliffs and dramatic coastline. There's truly always more around the bend: From the backroads of SLO Coast Wine Country and agricultural fields of rural Arroyo Grande, prepare to see SLO CAL from the vibrant view of your bike seat. Whether you spin along the dunes in Oceano and Nipomo or embark on a ride from iconic Morro Rock to the Cayucos Pier, traverse dozens of routes showcasing the area's singular majesty.
Find a peaceful rhythm along the path:
Looking to push yourself? At 25 miles round trip and featuring a staggering swing in elevation, the Perfumo Canyon Road/See Canyon ride from San Luis Obispo to Avila Beach is a worthy workout filled with enchanting views.
Climb new summits
All who wander are not lost, right? Whether you plan to rise with the sun to embark on a challenging climb through rocky terrain or seek a chill, afternoon exclusion through lush meadows, SLO CAL hikes are as diverse as the fauna and flora. Montana de Oro State Park is a must-hike destination, offering everything from low key solo nature walks to the blood-pumping Valencia Peak Loop. Want a moment to get reacquainted with the sound of your own thoughts? Stride along shimmering tide pools by foot (or take in the sunset on horseback).
Find sanctuary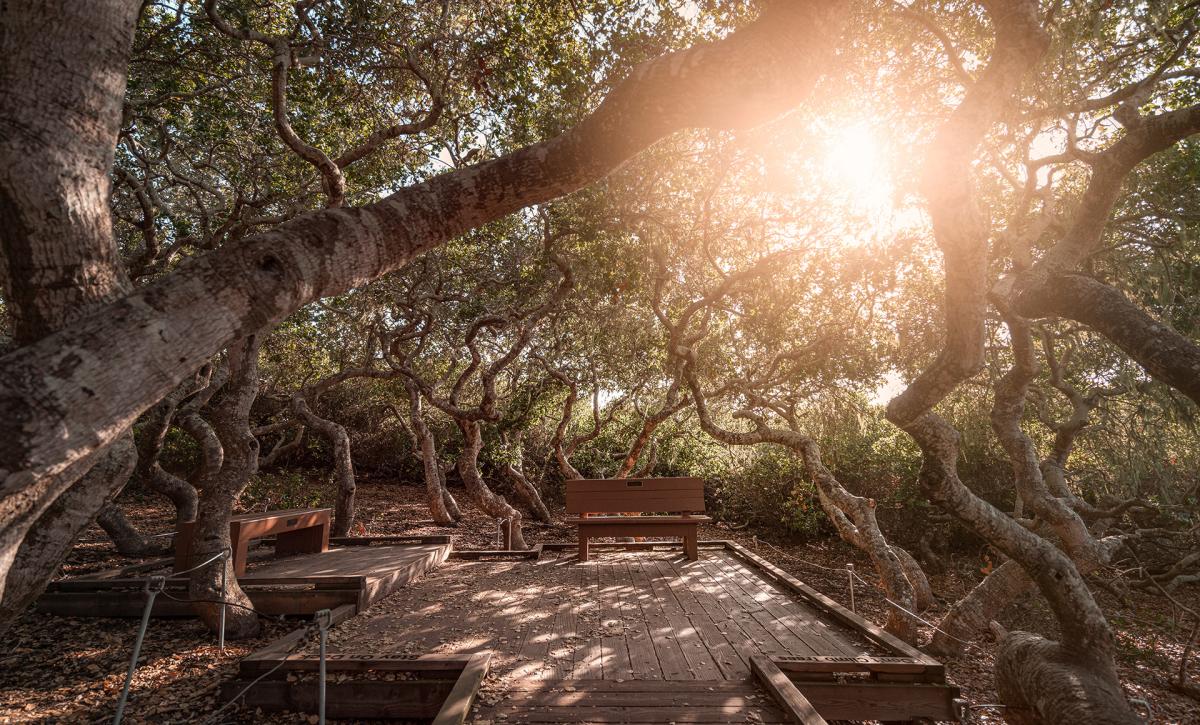 Find your natural place within the web of life as you discover SLO CAL's untouched preserves and sanctuaries. The Los Osos Oaks State Natural Reserve protects 90 acres of ancient dwarfed oaks in a coastal dune habitat unlike anything you've ever seen. El Moro Elfin Forest, adjacent to the Morro Bay Estuary, showcases not just oak woodland, but also coastal brackish marsh, riparian woodland fringe, maritime chaparral and coastal dune scrub. You feel as though you've stepped into a whole new world.
Wild ones
A funny thing happens when you travel solo: you walk a little softer and talk a whole lot less, allowing the local wildlife to emerge, as if by magic, from the woodwork. Keep your eyes open for playful dolphins and Sea Otters in Morro Bay, exotic Zebras along Highway 1 (leftover from William Randolph Hearst's grand menagerie) and seabirds galore.
Take flight
Clear blue skies, placid lake waters and a surprising swath of birds will greet you at Oso Flaco Lake Natural Area in Nipomo. With a river, freshwater lake, dunes, and unmatched ocean views, a day at this local watering hole will introduce even the most novice birder with a wealth of feathered friends. Don't forget your guidebook!
Embrace the wave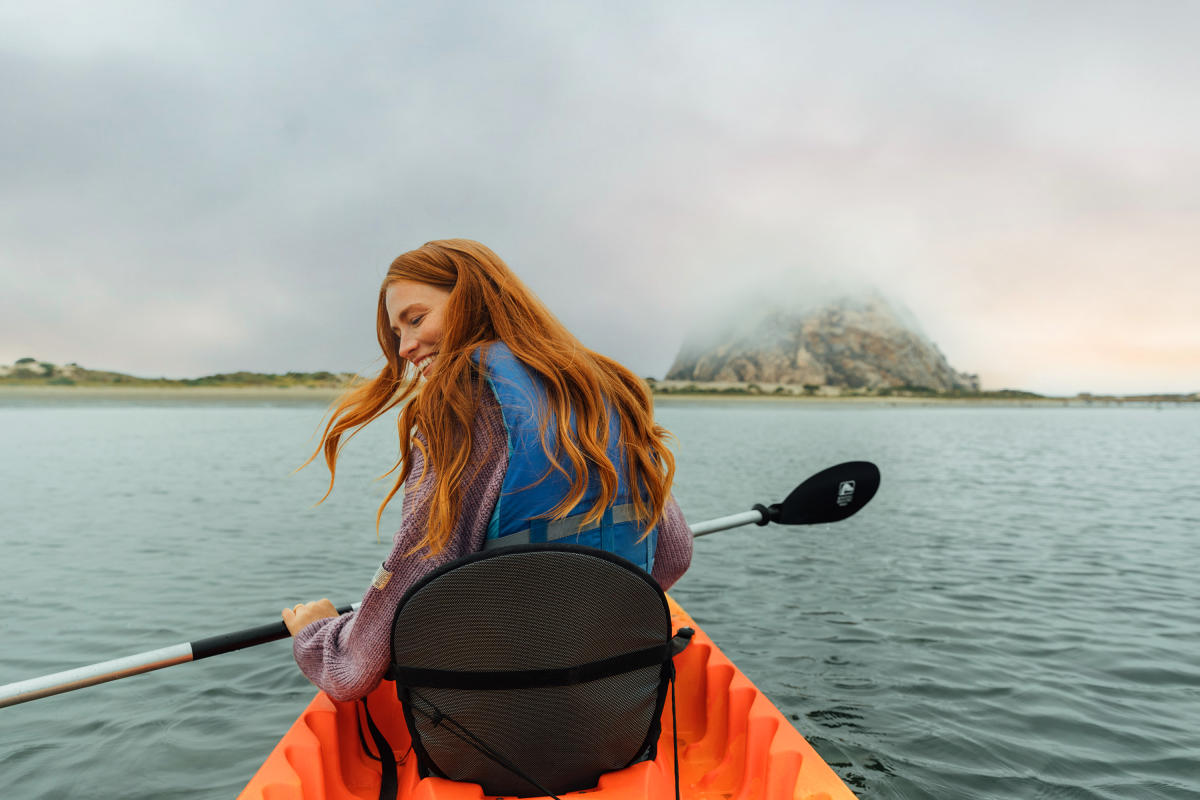 Ask the avid surfers who adore SLO CAL's beaches—there are few solo outdoor activities more satisfying than surfing, kayaking and standup paddleboarding in SLO CAL. In one fell swoop, you'll get a great workout, explore the region by sea and even meet a few of those aforementioned wild animals, including seals, dolphins and starfish. Launch your kayak from Shell Beach, and explore the Dinosaur Caves, a series of arches, caves and rock gardens only accessible from the water. From Avila Beach, discover calm waters and hidden coves. Kayak or paddle-board to a secret bank, where you can marvel at historic Port San Luis Lighthouse. Tip: The back bay serenity of Baywood Park also make an excellent training ground for new SUP'ers looking to glide along the glass.