Great outings for your friends and family to kick-start the holiday spirit
Thanksgiving Break is right around the corner, which means it's almost time to relax, play and feast in SLO CAL. Take advantage of this special time together, as your friends and family are all in the same place at the same time (for once). Plan a group outing to SLO CAL that will get you all in that cheery holiday spirit quick.
Catch a show
Lights, camera, wow: Keep your eyes and ears peeled for this vibrant art, theater and live music shows kicking off in SLO CAL.
Melodramatic fun
Holiday Extravaganza in Oceano
Nov. 21-Dec. 31
Times vary
Ticketed event
Where: Great American Melodrama, 1863 Front Street, Nipomo
The kids will LOL, and that's more than OK. At the Great American Melodrama,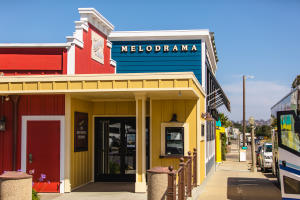 you're encouraged to take part in the show! See Scrooge find his new-found Christmas spirit in a heart-warming tale of holiday magic. Chuckle until your sides ache and celebrate the music of the season in the Melodrama's Holiday Vaudeville Revue. This triple bill is a very special family tradition designed to bring a year's worth of smiles to you and your loved ones in a great musical and theatrical experience.
A stomping good time
STOMP at the PAC
Nov. 30
7-9 p.m.
Ticketed event
Where: The Performing Arts Center of San Luis Obispo, 1 Grand Avenue in San Luis Obispo
Every day buckets and mundane trashcan lids become exciting musical instruments in STOMP, presented by Cal Poly Arts. From your nine-year-old niece to your 90-year-old grandpa, everyone can appreciate this spectacle (The New York Times says it's a sure-fire crowd-pleaser). An exuberant display of physical prowess and ensemble coordination, the show demonstrates how the most engaging music can be found in everyday objects.
Tunes by the sea
Live music at SeaVenture Beach Hotel
Dec. 1
3-6p.m.
Free
Where: SeaVenture Beach Hotel, 100 Ocean View, Pismo Beach
Make waves with the best of them: Join the SeaVenture Hotel and Restaurant every Sunday for a rotation of local artists. Music and ocean views are complimentary—which means you can save more dough for appetizers to share with the entire table. If you haven't yet tried the cocktails at this popular SLO CAL hangout, now's your chance! A hot toddy sounds great right about now, don't you think?
The butterfly effect
Met Live in HD Presents Madame Butterfly at the PAC
Dec. 1
2-5:30 p.m.
Ticketed event
Where: The Performing Arts Center of San Luis Obispo, 1 Grand Avenue in San Luis Obispo
Opera for all: The Met Opera comes to you live on-screen in SLO CAL so that this elevated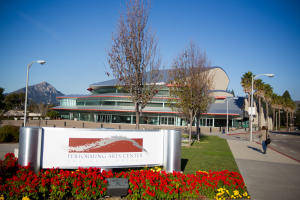 art can be enjoyed by everyone. The title character of Madama Butterfly—a young Japanese geisha who clings to the belief that her arrangement with a visiting American naval officer will produce loving and permanent marriage—is one of the defining roles in this moving opera. The lyrical beauty of Puccini's score has made this show a timeless gem for all generations to enjoy.
Straight up swanky
Pink Martini at the PAC
Dec. 4
7:30-10p.m.
Ticketed event
Where: The Performing Arts Center of San Luis Obispo, 1 Grand Avenue in San Luis Obispo
A groovy night for all: Pink Martini's "little orchestra" draws inspiration from the romantic Hollywood musicals of the 1940s and 1950s and crosses genres to create an eclectic, modern sound that is totally hip, no matter your age. Delight in the group's arrangements of Latin music, jazz, cabaret and cinema scores, as well as seasonal pieces from the ensemble's holiday album "Joy to the World." You might be in SLO CAL, but you'll be taken on a musical trip around the world from France to Iran, Armenia to South Africa and beyond. Plus, take advantage of a full band CD signing in the lobby after the performance!
A Star in the Night
Holiday Choral Concert at The Monarch Club in Nipomo
Dec. 4
7-9 p.m.
Ticketed event
Where: The Monarch Club, 1645 Trilogy Parkway, Nipomo
Enjoy the holiday choral concert, "A Star in the Night," a perfect event for the whole family to kick off the winter season. While in Nipomo, consider also checking out the nearby Pismo Beach Monarch Butterfly Preserve and perhaps grab dinner at Jocko's Steakhouse, an old school Nipomo haunt known for making impeccable Santa Maria style barbecue since the 1940s. "Dinner and a show" never sounded so satisfying!
Holiday fun for everyone
Community parades, holiday craft fairs, cocoa and caroling transform SLO CAL's sunny landscape into the perfect winter wonderland.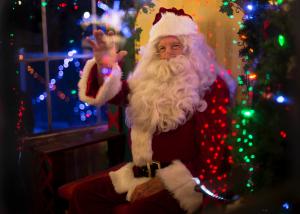 Get crafty
Central Coast Craft Fair
Nov. 29
10 a.m.-4 p.m.
Free
Where: San Luis Veterans Memorial Building, 801 Grand Avenue, San Luis Obispo
Your friends and family probably have a bit of holiday shopping to do. Take them to the largest handmade craft fair in SLO CAL, where you'll find handmade gifts for teachers and babysitters, quirky white elephant gifts for those holiday parties, and even unique items for those picky friends who are notoriously hard to shop for! Check out over 120 vendors hailing from the SLO CAL arts community and throughout the country. You never know what treasures you will find. Plus, get free door prizes and complimentary and apple cider to make this shopping experience a cozy holiday affair.
Who let Santa's dogs out?
Avila Beach Santa's Dog Parade
Nov. 30
11a.m.-noon
Free
Where: Front Street in Avila Beach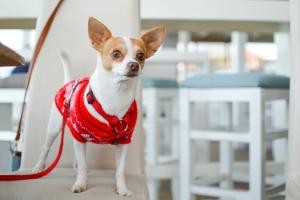 Try not to smile from ear to ear when you see hundreds of dogs decked out in their finest holiday sweaters and caps! The residents of Avila Beach prefer to kick off Small Business Saturday with a canine flash mob sauntering down the Avila Promenade (you'll want to bring your camera and perhaps a few doggie treats, too). Want to participate in this dog-friendly SLO CAL event? All dogs must be registered and check-in between 10:30-10:45 a.m. to receive a contest identification number for the costume contest: best dog costume, best dog/owner look-alike, best holiday look, funniest costume, and best in show. This year's parade participants will receive goodie bags donated by Petco Arroyo Grande. Good luck, mutts and masters!
Art, Wine and Lights in Atown
Annual Light up the Downtown Holiday Celebration and Art and Wine Walk  in Atascadero
Dec. 6
5:30-8:30 p.m.
Free/Ticket required for wine tasting
Where: Sunken Gardens, El Camino Real, Atascadero
Sunken Gardens in downtown Atascadero is a marvel at anytime of year thanks to its historic City Hall and towering, stately evergreens. During the holidays, this scenic setting gets even prettier than normal with a lighting ceremony designed to ignite the entire downtown core. Kick-off the event with a bit of local art and wine (your ticket includes a wine glass and various wine tastings among participating downtown merchants). Next up: The free community City Hall and tree lighting, everyone's favorite. Afterward, visit with Santa or enjoy a complimentary tour of the City Hall (whilst sipping a cup of rich hot chocolate, of course).
Boats on display
Morro Bay Lighted Boat Preview
Dec.6
6-8 p.m.
Free
Where: Morro Bay Embarcadero
Those reindeer really know how to rock the boat! Enjoy this free pre-cursor to the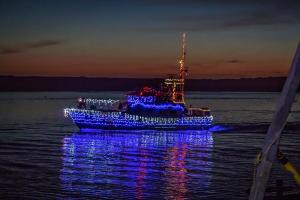 Saturday Dec. 7 Lighted Boat Parade in Morro Bay. Waterfront restaurants are sponsoring several lighted boats to cruise up and down the waterfront for your viewing pleasure. Book your dinner reservation now to have a front-row seat at the lighted boat cruise. Also, say hi to Santa, who will be taking wish list orders on the Embarcadero.
Winter is coming to the coast
WinterFest in Morro Bay
Dec. 6-Dec. 15
Free
Where: Morro Bay Embarcadero and various locations in Morro Bay
On the twelfth day of Christmas my true love gave to me—a surfboard and some SPF 50! Enjoy a dozen sunny SLO CAL days of fun at the second annual WinterFest in Morro Bay! Find lighted boats, lighted trees, Santa's House open daily, a Santa Crawl for 21 and over, tall ships in the harbor and real snow for the kids. Cowabunga!
Cheery in Grover
Grover Beach 53rd Annual South County Holiday Parade
Dec. 7
10-11 a.m.
Free with new, unwrapped toy
Where: 16th Street to West Grand Avenue to 9th Street to Ramona Garden Park Center, Grover Beach
Get festive in Grover Beach! This is the only daytime parade in South SLO CAL, which makes it easy to bring the little ones along for the ride. Parade entry fee is one new, unwrapped toy to be donated to local charities. This year's theme is "Gingerbread Dreams." Here's to hoping there will be some gingerbread ready to eat! Immediately after, stroll the Fine art at Santa's Workshop Fine Art & Craft Faire, kicking off from 10 a.m.-3 p.m. Find unique handmade gifts, prize drawings and enchantment for the entire family.
Santa trades his slay for a boat
Morro Bay Holiday Boat Parade
Dec. 7
6-8 p.m.
Free
Where: Morro Bay Embarcadero
Who needs a flying slay when you can cruise the bay? More than forty decorated boats will compete as they parade around Morro Bay's calm waters. View this one-of-a-kind SLO CAL spectacle, visit Santa's House, sip hot cocoa and enjoy the White Cap Band as they rock out for the holidays.
Santa Visits Wine Country
Paso Robles Christmas Light Parade
Dec. 7
7 p.m.
Free
Where: 12th and Park Streets Paso Robles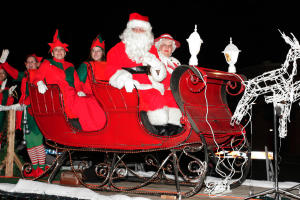 Do you think Santa prefers red or white wine? Who are we kidding—he's a milk man. The Paso Robles Christmas Light Parade will cruise through downtown Paso Robles, bringing cheer to wine tasting rooms and foodie haunts alike. Bring the kiddos for this family-friendly celebration or make it a date night (the aforementioned epicurean destinations are not to be missed, especially when local winter veggies are ripe and ready to savor). 
With love, from SLO CAL
SLO MakerSpace Holiday Faire, San Luis Obispo
Dec. 7
11 a.m.-3 p.m.
Free
Where: SLO MakerSpace 81 Higuera Street Suite 160, San Luis Obispo
Gift like a SLO CAL local and skip the big box chain stores. The third annual SLO CAL-made SLO MakerSpace Holiday Faire features memorable local vendors, regional treats, kid's crafts, activities for all ages and more. You'll even get free laser-cut snowflakes and gift tags to make your season bright. Enjoy tours of SLO MakerSpace, which might just kick off your own artistic spark. Bring your friends and family to experience the bountiful creativity of the region!
Paddle to the North Pole
Holiday Paddleboard Parade in Morro Bay
Dec. 8
1-3 p.m.
Free
Where: Tidelands Park and the Waterfront, Morro Bay
Paddle-powered vessels should have a chance to show their holiday spirit, too! Bring your own paddleboard, kayak or non-motorized vessel (or rent one from local shops) to participate in this totally beachy winter tradition. This year, $1,000 worth of cash prizes will be awarded to the best holiday décor and costumes. On land, there will be paper boat building, along with other family-friendly activities. Only in SLO CAL, right? Learn more about paddleboarding like a pro here.
Tree Lightings
Your heart will swell and your kids will gasp as thousands of dazzling lights illuminate SLO CAL's unique communities. A SLO CAL holiday tradition!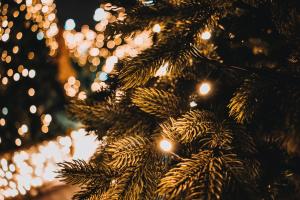 Wine Country gets in the spirit
Paso Robles Main Street Association Tree Lighting Ceremony in Paso Robles
Nov. 29
5:30 p.m.
Free
Where: Downtown Paso Robles
Downtown Paso Robles will officially get into the holiday spirit when the signature oak trees of Downtown City Park—along with thousands of lights within Paso Robles' charming epicenter—flicker on at sundown. This time-honored local event truly marks the holiday season in Paso Robles Wine Country, with community caroling by candlelight, refreshments (yes, delicious wine) and entertainment. The kids will be entranced by frolicking elves, too!
Morro Bay, illuminated
Morro Bay tree lighting ceremony
Dec. 7
5 p.m.
Free
Where: City Park, Downtown, T-Pier, Anchor Park & other various locations around town
Flip flops and festivities: Join Morro Bay for a simultaneous lighting of holiday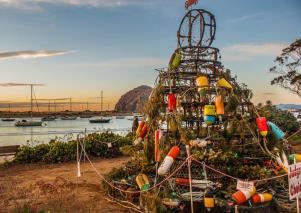 around the charming coastal community. No, these aren't all palm trees! While downtown, do a little holiday shopping at a slew of eclectic antique stores, grab dinner at one of the city's unique restaurants or catch a live concert at The Siren, SLO CAL's popular intimate live music venue, which regularly hosts touring national acts.
Grover Beach gets sparkly
Grover Beach tree lighting ceremony
Dec. 7
5:30-7:30 p.m.
Free
Where: Ramona Garden Park Center, Grover Beach
Brighter than ever: Join Grover Beach for their Annual Tree Lighting ceremony! Warm-up with cocoa, cookie decorating, "snow," and caroling. Plus, Santa will be paying a visit. Hungry for dinner, try the American classics at Spoon Trade, ground zero for comfort food bliss.
Hit the Farmer's Market
Peak season specialties and crowd-pleasing produce are on display at SLO CAL's whimsical winter farmers markets. Always free admission, always delicious!
Nov. 29
Cambria Veterans Hall
2:30-5:30
Nov. 30
Main and Harbor Street
2:30-5:30 p.m.
Nov. 30
Templeton Community Park
9:30 a.m.-12:30 p.m.
Dec. 2
668 Santa Maria Ave.
2-5 p.m.