Contact: Jessica F. Sohi Celeste Sauls
Holiday Inn Express & Suites of Atascadero IHG
805-462-0200 (770) 604-5415
HOLIDAY INN EXPRESS & SUITES OF ATASCADERO WINS
IHG 2011 TORCHBEARER AWARD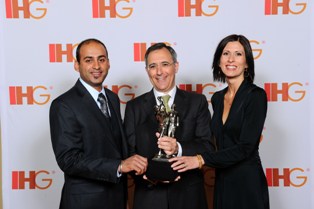 ATLANTA (Nov. 9, 2011) - The Holiday Inn Express & Suites of Atascadero received the IHG (InterContinental Hotels Group) 2011 Torchbearer Award, the company's most prestigious award.
The esteemed Torchbearer Award was presented to Amar Sohi, General Manager/Co-Owner and Jessica Foote-Sohi, Director of Sales & Marketing during the 2011 IHG Americas Investors & Leadership Conference in Las Vegas, Oct. 24-26, 2011.
The Holiday Inn Express & Suites of Atascadero is one of only 24 properties selected from nearly 2,000 hotels to receive the Torchbearer award within its Brand in the Americas (Canada, USA, Latin America). Torchbearer awarded properties account for the top 1% of hotels that achieve the highest levels of excellence in all aspects of operation -- from quality and product to customer satisfaction. A 2011 Torchbearer trophy, the company's symbol of excellence, will be on permanent display at the hotel. Holiday Inn Express & Suites of Atascadero is the first hotel in San Luis Obispo County to earn this recognition.
"We are honored to receive the coveted Torchbearer Award" said Amar Sohi, Managing Partner. "Our goal from the beginning was to be one of the best hotels in the country, and I am proud to see we achieved it. Our staff's dedication to providing the best service experience to our guests truly shows throughout each department of the hotel. We are all extremely proud."
"It is my pleasure to name the Holiday Inn Express & Suites of Atascadero one of the finest hotels in our industry," said Kirk Kinsell, President, the Americas, IHG. "This hotel embodies the spirit, product and service that continue to make IHG properties known and admired throughout the world, continuing our mission to deliver Great Hotels Guests Love."
Prior to winning the Torchbearer Award, Holiday Inn Express & Suites of Atascadero earned previous recognition for achieving the Highest Overall Guest Satisfaction in Region 2009-2010 and 2010-2011. The region spans Central and Southern California from Paso Robles to Ontario and east to Bakersfield.
The 80-room hotel opened its doors in July 2008, and is located in the heart of California's Central Coast wine country. Holiday Inn Express & Suites of Atascadero offers guests boutique ambiance, customized service, brand consistency and a perfect location to explore the best of the region. Owned by H & S Hospitality of San Luis Obispo, the hotel is also affiliated with local businesses Holland & Knapp Construction; Holland Realty; the Holland Ranch event/wedding venue; and the former owner of the Super 8 Motel on Monterey Street. All of San Luis Obispo, these businesses show the same dedication to excellence in their particular trades. The Hotel's Managing Partner, Amar Sohi is the former owner/operator of Sandy's Liquor & Deli in San Luis Obispo. A graduate of San Luis Obispo High School, he honed his hospitality background at some of San Francisco's premiere hotels before returning for this endeavor.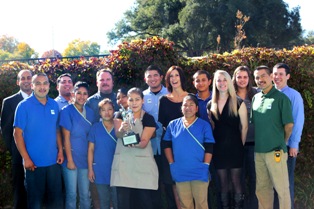 To be eligible for evaluation, hotels must meet basic requirements for cleanliness, comfort, service and safety. Hotel properties must pass multiple inspections during unannounced evaluations and consistently meet a minimum overall guest satisfaction score which is determined by reviews from actual hotel guests. In addition, hotels must ensure each department of the hotel adheres to optimal performance. Over 6,100 franchise owners, operators and company officials attended the 2011 IHG Americas Investors & Leadership Conference.