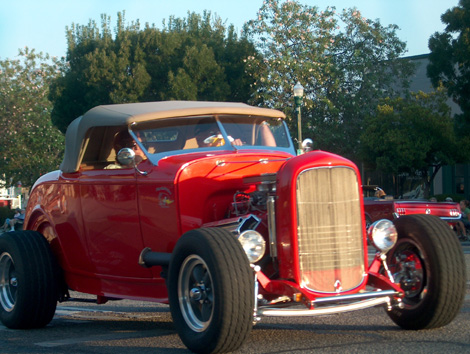 When it's August it's hot in Atascadero. When it's hot in August in Atascadero, we like to cruise the El Camino Real. That's why we call it Hot El Camino Nite. This year, on Friday, Aug. 17th, the hottest wheels take to the hottest street in San Luis Obispo County for the 20th Annual Hot El Camino Nite Cruise! The cruise will extend along El Camino Real from Curbaril to Traffic Way . The event is free and everyone is encouraged to bring their family and friends to enjoy an evening of action-packed entertainment and fun!
On Saturday, Aug. 18th, it's the all-day Mid-State Cruizers Car Show at picturesque Atascadero Lake. Check out dozens of gorgeous classic cars. Munch a burger. Stretch on the law and relax or explore the Charles Paddock Zoo, the only accredited zoo between Santa Barbara and San Jose. Don't forget the awe-inspiring Faces of Freedom Veterans Memorial

It's a weekend of fast cars and fun in beautiful Atascadero. Enjoy the Atascadero Experience.

For more information, please call (805) 461-5000, email panton@atascadero.org or visit us online at www.visitatascadero.com today.