I Love Where I Live: Alpacas, Olive Oil and Art all in One Place?
I know I usually preview new food and wine finds on the Central Coast. I guess this post is no different, albeit from a different slant. I know you are going to love this...
Imagine, I'm on the hunt for farms in the Northern part of San Luis Obispo County to preview for the upcoming SAVOR THE CENTRAL COAST event.
Here's a little history: mom had been up to visit last year and had wrangled a special tour at an alpaca farm. She returned from the visit raving about the farm, but most interestingly carried on about the owners of the farm, who were doing this as their 'retirement career'. As an aside she mentioned they happened to also grow and press their own olive oil.
So, here I am a year later, looking for the 'best of the best' farms and ranches. Searching out every nook and cranny, I gave mom a call and got the name and number of the Alpaca Farm she had visited. I learned the farm was called ALPACAS of CRIPPLE CREEK and the sister olive farm was called OLIO NUEVO. I did my web search and learned that the owners were Art and Lynn Kishiyama.
Fast forward several weeks, e-mails, etc., and next I find myself walking amongst the most amazing animals I've yet to experience - alpacas! There is a certain magic and mystery in these beautiful, dignified and most gentle of creatures.
Art Kishiyama has taken it upon himself as his retirement career to further awareness and advance the breeding stock of these beautiful creatures. And, believe me....Art is the one person above all to which you would entrust your genetic stock! An architect by trade, Art is meticulous, methodical and most importantly, compassionate in his care and breeding of these beautiful alpacas - and it shows: his alpacas have some of the highest grade fiber available on the market. As an aside, Art offers consultation for those wanting to start their own quality Alpaca Farms.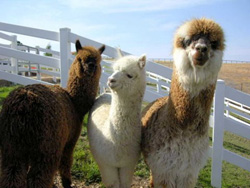 But, as I said earlier, this is a foodie post from a different slant.... NOW, on to the Olive Oil: Art and Lynn also grow olives that they press into their Estate and Reserve OLIO NUEVO oils. Sadly, their current vintage is totally sold out, but smart soul that you are you might get on their mailing list for their next vintage. You may also be able to try their OLIO NUEVO oils at the two We Olive Stores in San Luis Obispo County (links below.)
O.K. - I admit quantities are limited. They usually press less than 1,000 gallons annually. But, hey, that's the beauty of this olive oil - it is lovingly grown, carefully pressed, meticulously blended and personally shipped by Art to you.  I've added myself to their waiting list. I'm hoping the 2012 vintage will be abundant and I'll get my allotment. Did I mention the Kishiyama's go the extra-mile to have their oil certified? They do.
I am remiss if I do not mention Lynn's art. Just as Art has established a homestead for the alpacas and his own olive oils, Lynn is similarly talented and works as an artist. A whole studio is dedicated to her creative works, which (if you're lucky they will share with you!)
For more information on the Kishiyama's alpacas, olive oils or Lynn's works of art see the links below:
http://www.alpacasofcripplecreek.com/
We Olive Stores in San Luis Obispo County
Enjoy!
Laura Gurreau
Central Coast Food Tours