I Love Where I Live: Bring the Kids for Seussical the Musical!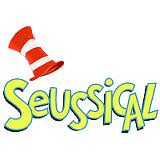 You know something special is brewing when you're enticed from the glorious outdoors to the environs of an indoor theatre. I've been enticed. Dare I say, something special's brewing?
With that said, I throw out an opportunity for a wonderful afternoon of theatre for adults and children alike: Seussical the Musical. Staged up at Cal Poly's PAC, in the Spanos Theatre, Kelrick productions has a rock-solid reputation for orchestrating wonderfully creative (and often delightfully 'over-the-top') theatre using a mix of professional and local talent. This production is no exception.
Add to the mix one of my favorite philosophers, that irascible Dr. Seuss, and you're smack-dab in the midst of a wondrous fantasy that has you re-looking life from a slightly askance, and humorous perspective. We all need a dose of that every now and then...
One thing I know for certain: my children are all the better for their mom's love of Seuss. We collected every book, and many have gone on to become ragged relics now infusing humor and wisdom into the next generation of our family.
As Seuss has said,
"You have brains in your head. You have feet in your shoes. You can steer yourself any direction you choose. You're on your own. And you know what you know. And YOU are the one who'll decide where to go..."
- Dr. Seuss (Oh, the Places You'll Go!)
So, if you decide to attend Seussical the Musical, here's what you'll need to know:
Event Runs: July 16-24, 2011
Saturdays @ 2 PM & 7 PM
Tickets: 805.756.ARTS and www.pacslo.org
Ticket Price: $25 - 27.50
I'll be there - perhaps you will be too!
Laura Gurreau
www.CentralCoastFoodTours.com