I Love Where I Live: Buona Tavola Serves it Up with Style!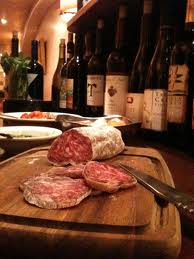 Who doesn't like salami? I mean REAL salami, not the over-processed, generic, "all tastes the same" stuff commonly found in our grocery stores. Really... who can turn down an authentic, hand-made, lovingly cared for salami that has ripened into something just this side of heaven?
Not me.
Scout that I am for all things handmade, local and utterly delicious, I soon discovered one of our local culinary legends was delving into salami making. Hmmm - I had to check this out. Besides, it gave me a great excuse to visit the restaurant for my favorite salad, the Carpaccio di Manzo Monte Rosa (thin slices of raw beef fillet topped with grilled radicchio and shaved parmesan cheese in a balsamic vinaigrette dressing). Carnivore that I am, I love this salad!
Off I trotted to Buona Tavola ... and best to say "the rest is history": for once you taste this homemade salami no other will suffice - let alone satisfy!
O.K., O.K., - I know you're saying "enough already - where can I get this salami?". So, here's the scoop: Antonio Varia owner/chef of Buona Tavola in San Luis Obispo/Paso Robles is creating these little wonders out of his kitchen in his Paso Robles restaurant. There are four different salami they create/sell:
o Cacciatorini: it's a "hunter's salami". Formed into small pieces about 6 inches long, it is flavored with juniperberry and chestnut honey bringing out a suggestion of the fruity taste of the meat. $8

o Salame al Barolo: robustly flavored, complex, flavored with Barolo wine - a Northern Italian favorite, and my personal favorite. $12

o Sopressa: it originally got its name from the practice of pressing the salami between planks of wood resulting in a straight, flattened shape. The Northern Italian version did away with the pressed shape and it's become an international favorite. You gotta love garlic and spices - it's also one of my favorites, too! $14

o Finocchiona: one of the most beloved of Tuscan pork salami. The name refers to the use of fennel seeds which are ground into a flavoring paste. Delish! $14

For those of you wondering if one can actually taste the flavor variations among the salami, I answer a resounding "YES"! It's great fun to order all four, pair them up with some hard, flavorful cheeses and have your own 'mini-pairing' of gourmet salami and cheeses.
Hey... before you're running off to get your salami, don't forget the wine! These go great with a nice hearty red. One of my favorites is a little known Central Coast Winery with very BIG wines: Calcareous. Try the Tres Violet '07 it's one of those Rhone Blends Paso Robles is becoming famous for. The Tres Violet is a heady blend of Syrah 58%, Grenache 30%, and Mourvedre 12%. Buckle up guys, ' cause this food and wine combo will rock your world - it's Tres Bien!
Go to www.btslo.com to order your salami, and www.calcareous.com for your wine.
Enjoy!
Laura Gurreau
www.centralcoastfoodtours.com