I Love Where I Live: Come Watch The Elephant Seals!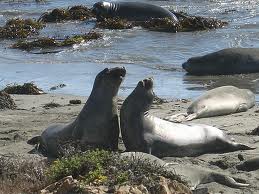 If you haven't witnessed the wonder of an elephant seal, you're in for a treat. Just North of Cambria the seals gather at the Piedras Blancas rookery twice a year to molt, mate and give birth to their young.

The height of the seals birthing/mating visit is right about now - mid February. The females grow 9-12 feet and weigh between 900-1800 lbs. The males are huge: they grow up to 16 feet long and can weigh as much at 5000 lbs! It's only the male that develops the large nose or trunk, for which they are named. This nose can grow to two feet long! Like I said, they are quite unusual appearing and extraordinary creatures.

There are so many amazing facts about them that a visit to the Piedras Blancas rookery is a must. Docents have been trained to share their knowledge of these unusual creatures and are on the rookery premises through the end of February.

Did you know for example that they commonly dive to 2000 feet deep, and have been known to dive to 5000 feet? And, while their average dive length is 20 - 30 minutes, they are capable of diving for as long as an hour? And, that their migrations total up to eight to twelve thousand miles of swimming annually? Like I said, they are amazing creatures.

Visit www.elephantseal.org for more information and directions to the local rookeries.


Laura Gurreau
www.CentralCoastFoodTours.com