I Love Where I Live: Discover Fat Cat Herbal Farm!
Those of us who cook look forward to growing our own herbs. When you find a grower locally who can provide you with all your favorites – it's nothing short of kismet! 
I recently discovered Fat Cat Herbal Farm and want to share this find with you. The farm is located along HWY 46 W, about 2 miles from the 101 HWY. Many of you may remember the site of Sycamore Herb Farm – well, this is it! 
The site is beautifully shaded under the grand oak trees, and there are picnic tables if you choose to drop in as a site for your picnic while exploring the vineyards of West Side Paso Robles. In fact, Fat Cat Herbal Farm shares the location with two of my favorite tasting rooms: Lone Madrone and Kenneth Volk Vineyards. It's a perfect stop to enjoy tasting wines, while wandering through the herb and specimen gardens.
Bring your picnic, grab a bottle of wine from Lone Madrone or Kenneth Volk and buy a bunch of freshly cut flowers from the herb farm to grace your picnic table. While you're there pick up a few of their exotic herb plants to add to your kitchen garden. 
Believe me, this is a find that locals have yet to discover – though is well worth the visit!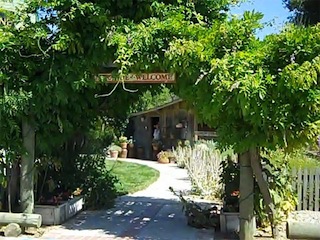 Enjoy & Cheers!
Laura Gurreau
Central Coast Food Tours