I Love Where I Live: Discover My New Find for Paso Robles Dining - ESTRELLA!
As a long time local and owner of Central Coast Food Tours, I'm always on the look out for a fabulous new food find. I consider Paso Robles the real heart of the foodie scene in the county, perhaps it is all the surrounding wineries and olive oil producers that inspire the town's creative mélange of chefs to pull out the stops and let go with some really unusual, but decidedly most delicious meals.
A restaurant still in its first year of business, I see ESTRELLA (meaning star) as a vibrant, rising star in the highly competitive food scene in Paso Robles. Located right on the downtown park at 815th 12th street, Executive Chef Ryan Swarthout, with the assistance of Chef de Cuisine Travis Borba, offers what they term "Latin Riveria Cuisine", a fusion of Spanish, South American, Mexican and Caribbean food.
The restaurant's ambiance is as dazzling as the food is vibrant and flavorful. Walking into Estrella to dine, is much like stepping into another world; the bright colors, the earthy aromas wafting from the kitchen, and the friendly faces of the staff all come together to make this a most enjoyable dining experience. While you'll find many familiar sounding items on the menu, be assured Chefs Swarthout and Borba will have put their own unique spin on the dish, often resulting in something quite wonderful and different than what you may have expected. This sense of discovery is part of the fun of dining at Estrella.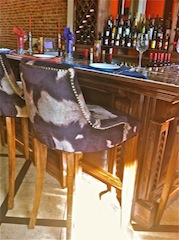 In addition to the delicious eats, the restaurant also offers a most eclectic and varied selection of beers. In fact, once a month a special dinner is created to pair with a guest brewery. The next such dinner is scheduled for Friday, December 7th and will feature a one of a kind menu paired with the best of Hanger 24 beers.
Estrella Restaurant is located at 815 12th Street in Paso Robles and can be contacted at 805.226.5406. Reservations are a must for the special beer pairing dinners. Contact Amanda at the above number or email "info@estrellarestaurant.com."

p.s. The restaurant was just written up in the LA times and noted for their delicious food!
Enjoy!

Laura Gurreau
Central Coast Food Tours