I Love Where I Live:
Discover Old San Luis BBQ!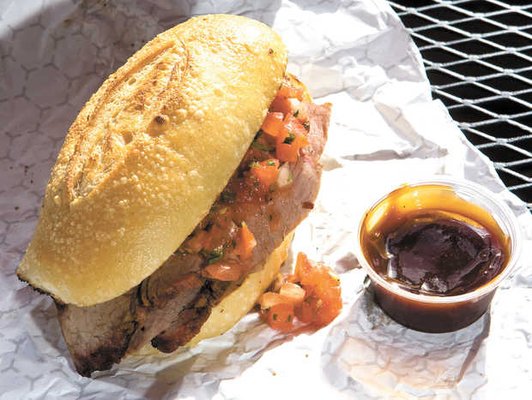 On the Central Coast we have many treasures to share. Being a "foodie" of the first order, I consider our wines, artisanal food products and our many, many wonderful restaurants something that is most certainly one of our treasures.
My latest food purveyor to make it to the top of my "must share" list is a little hole in the wall place named "Old San Luis BBQ Co." The started out as a catering company and just recently opened a pick-up restaurant at 670 Higuera. The shop is located in the shopping center on the corner of Higuera and Nipomo streets in Downtown San Luis Obispo.
What's the fare? It's all about BBQ, but not just any BBQ - it highlights and elevates our own Santa Maria Style BBQ from the simply delicious to the sublime. The owner did his homework and uses several authentic family recipes that over time have come to define the term "Santa Maria BBQ."
You might be asking "What is Santa Maria BBQ?" The style has a long tradition on the Central Coast and is known for using a unique cut of meat (Beef Tri-Tip), a locally grown bean (for the inevitable baked beans), crusty delicious bread for the trademark sandwich rolls and garlic bread (produced locally) as well as a huge, fresh salad.
In the past, we've often had to wait for various charity groups to haul out their BBQ wagon to local street corners to get the real thing. Now, thanks to Old San Luis BBQ we can satisfy that itch for truly authentic Santa Maria BBQ any day of the week - and, their prices are most reasonable. Yep, I'm a happy camper.... And I know you will be too after trying them out.
A few suggestions: Of coarse try the tri-tip sandwich, but add to that the corn pie and the strawberry salad for a filling and delicious lunch or dinner.
Reminder: this is a "Take-Out" joint, although there is outside seating in a nice covered setting. They open at 11a.m. and close at 8p.m. or later depending on the day of the week.
For more information call (805) 285-2473 or visit them on the web at http://oldsanluisbbq.com
Enjoy,
Laura Gurreau
Central Coast Food Tours