I Love Where I Live: Discover Our Own "Pithy Soda Works!"
With the Mid-State Fair heading into full tilt, that usually means sky high temperatures. And let's face it, when you're hot and tired after a full day of fun and sun at the Fair relaxing to one of our many fine local wines… sometimes doesn't fit.
I have the perfect alternative for you! Why not stop in at one of my favorite destinations for an all-original SODA TASTING! Yes, right down the street from the fairgrounds, located on 13th Street and Pine is Pithy Little Wine & Soda Company. Husband and wife team, Jeff Munsey and Felicia Alvarez-Munsey will enchant, delight and charm you with their sparkling sodas, delicious wines, fresh olive oils and warm hospitality. It's a "Must Do" stop for locals and visitors alike.
Jeff and Felicia brew their sodas the old-fashioned way, using pure cane sugar instead of that high fructose syrup we've all become used to. Tasting these sodas is a trip back in time where their smooth cream soda will have you daydreaming of simpler times. They also offer Orange Cream, Root Beer, Black Cherry, and Cola.
And for those who would prefer to taste their lovely wines – please do! They produce extremely limited quantities that always sell out. Currently they have a nice '09 Viognier perfect for your summer dinners, a '09 Reserve Cabernet Sauvignon, and my favorite a heady, robust red blend they've named "Elephant in the Room" – wonderful!
The tasting room is filled with all sorts of fun, useful and interesting items to enhance your wine loving lifestyle. You are sure to find something that you MUST take home with you (in addition to a bottle of wine or soda or two…)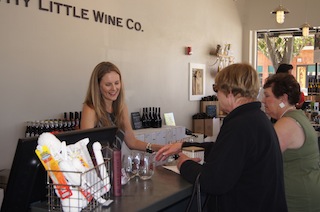 You can contact Jeff and Felicia at www.PithyWine.Com or give them a ring at (805) 546-1059
Store Hours: M-Sat 11am - 6 pm, Sunday 12 pm – 5 pm
Enjoy!
Laura Gurreau
Central Coast Food Tours