I Love Where I Live: Discover Point San Luis Obispo Lighthouse!
Even many of us locals have yet to discover the heritage and historical treasures of Point San Luis Lighthouse. I guess it's just not 'noisy' enough about its treasures.
Loving history as I do, when I came across their Holiday Celebration event last year, I immediately phoned in for tickets. Plus, add to the fact the event was offering food and wine - well, anything that combines history with our local wines and delicious food is a 'must do' for me. I grabbed my husband, Yule, and off we trotted for a brand new adventure on the Central Coast.
If you have any interest, please do get your tickets early as we barely made it onto their much crowded guest list. This special event includes all the fun of their regular Saturday tours, plus food and wine tastings as you languor over the hidden grounds of the historical lighthouse. We enjoyed the wine and delicious appetizers as we explored the grounds and spent several hours enjoying the festivities, the tour, as well as relaxing in the reclusive and isolated splendor where the lighthouse is situated.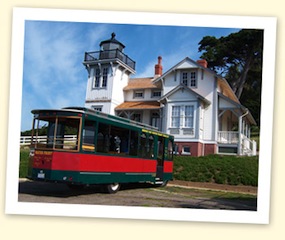 Their 3rd Annual Merry Holiday Celebration is scheduled for Saturday, December 15th, 2012. The trolley is scheduled to depart at 11am, 12pm, 1pm, 2pm and 3pm. They have the trolley returning back down the hill as well as vans to allow people to stay as long as they wish. Music adds to the festivities with carolers and harp music. They also have raffle prizes and a silent auction.
Tickets are $50 for adults/$12 for children under 12 years of age. Personally, I think it's more of an adult activity. The isolation, serenity and beauty of the area is most special - it makes a most novel and fun "date activity."
So, whether you are locals or are visiting the area, consider an afternoon out at the lighthouse - and if your Saturday, December 15th is free - consider their Holiday Celebration.
Here's the information for reservations/tours: call 805.540.5771 , or visit their site at http://www.sanluislighthouse.org/lighthouse_tours.html
Reservations are a must for this special event.!
Enjoy!

Laura Gurreau