I Love Where I Live: Have You Taken a Lighthouse Tour?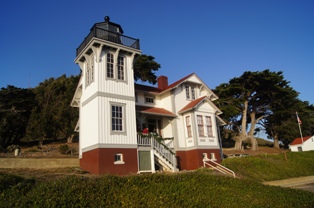 I've often shared that my fascination with local history falls just behind my love for the food and wines of the area... so any opportunity to learn more about our history through a fun and engaging event is always a winner in my book.
What may be the second most important historical monument in San Luis Obispo is largely unknown by many, even us locals. I recently took a tour of the Point San Luis Lighthouse, and discovered the rich historical significance of this landmark, and it's role in settlement of the area. Loving those "little known" stories one often has to track down and unearth from historians, I was in awe as our docent guide (Stan) spun yarns that must have taken years to collect and chronicle.
In addition to the historical significance of the Lighthouse, the trip out to the Lighthouse (on a cherry red trolley), and time spent wandering the grounds were nothing short of a visual feast. Imagine the pristine land and mile-upon-mile of views as we wound around the point in Avila and made our way out (way out) to the grounds where the Lighthouse is located. Fortunately I brought my camera, for the natural beauty of the area is truly a special sight.
Trolley tours are offered on Saturdays at 12pm, 1pm, and 2pm at a bargain price of $20 per person. Reservations are a must - 805.540.5771 For more information on the tours you can visit their website: http://www.sanluislighthouse.org/lighthouse_tours.html
Parking is free!
For all you history buffs out there, I highly recommend the tour!
Laura Gurreau
www.CentralCoastFoodTours.com