I Love Where I Live: Have You Tried Morro Bay's Farmers Market?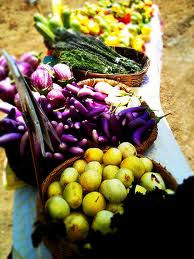 Being a 'local' who lives in San Luis Obispo County, I feel beyond blessed with all the wonderful foods and wines of the area. Our local Farmers Markets are the place to go to get at the heart of all this great food among us. Visit the markets and you are likely to see local chefs, purveying the produce and other fresh finds to craft their menu for the evening. I love that all us ordinary 'folk' have the same access to the growers and these great local products as the professionals do!
Only recently I happened upon a Morro Bay Farmers Market during their usual Saturday opening and discovered all sorts of new vendors and products I had not seen at other local Farmers Markets. Honey from the Nipomo area, jelly & jams made locally, and a new herb producer! Of course, they had the veggies and flowers that we've come to expect at the markets (though on a smaller scale than most), but the discovery of these new local products made the market a real "find" for me.
While the Thursday evening, downtown SLO Farmers Market, may be what we are best known for... these smaller community markets can offer undiscovered treasures.
Morro Bay's Farmers Market operates on Saturdays on the 800 Block of Main Street, from 2:30 - 5:00 pm through December 16th.

Enjoy!

Laura Gurreau
www.centralcoastfoodtours.com