I Love Where I Live: History, Wine and Food - Oh My!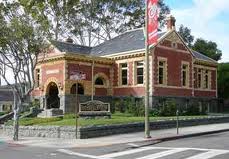 It's no secret that I love the food and wines of the Central Coast... but I bet you didn't know the history of our area comes in a close third! The history of the Central Coast is overflowing with stories of everything from the settlement of the Spanish Missions, to wonderful stories of "Grizzly Adams" as he attempts to rid the area of marauding Grizzly Bears.
Dallidet, the MAN, and all the stories of his settlement will be unveiled at the new exhibit at the
SLO History Center
on
Saturday October 15th
. And, there is an evening event that rolls out the best of Dallidet family history, his connection to local wines, food, as well as live music to make this an event to be enjoyed by all.
The exhibit is called "
FRENCH CONNECTIONS
". The Tag is "
An Evening of Food and Wines
". Loving the food and wines of the Central Coast, I plan to be there. The Dallidet Adobe grounds are truly amazing. I urge you to take this opportunity to experience the hidden grounds of the "Dallidet Adobe" while also supporting the History Center. Loving History...good food and fine wines... I will say this is an event to be savored!
Tickets are $40 for members: $50 non-member: and $60 at the door. Tickets are selling quickly, so I recommend you contact the history center directly: 805.543.0638
See you there!
Laura Gurreau
www.centralcoastfoodtour.com