I Love Where I Live! - Join Me at the Stone Soup Music Faire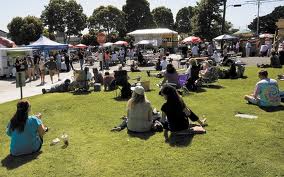 A great South County event put together by the Grover Beach Chamber of Commerce is the upcoming Stone Soup Music Faire - you know you're going to have some serious fun when an event has been running successfully for 20 years (this is the festival's 20th year!).
Stone Soup is a bit of a local legend with a huge amount of involvement and support from the local community. EVERYONE goes to this event - because, it's frankly, a rousing great time for the entire family... and it's FREE! While music is the headlining draw (and it is jam-packed with all varieties of ethnic music) there are all sorts of other activities to fill in the day.
The event runs this weekend, August 27th, Saturday from 10 am - 9 pm and August 28th Sunday from 11am - 5 pm and includes a 5 and 10K Dune Run, a Health Fair, an assortment of street vendors and a variety of activities for the children, including storytelling and an Exploration Science Station.
The music is practically non-stop. Here's the line-up:
August 27th - Saturday
• 10 am - "Mariachi Mexicanisimo"
• 11:30 am - "Red Skunk Jipzee Swing Band" (Gypsy Jazz)
• 1:00 pm - "Masanga Marimba"
• 2:30 pm - "Jishin Taiko" (Drum)
• 4:00 pm - "Bald Spots" (1950's Rock)
• 5:30 pm - "Soul Sauce" (Funky)
• 7:00 pm - Ten Mile Tide
August 28th - Sunday
• 11 am - "Jishin Taiko" (Drum)
• 12:30 pm - "Cuesta Ridge" (Americana)
• 2:00 pm - Masanga Marimba
• 3:30 pm - Grupo Aries (Latin)
It's two packed days of music, dancing, exploring, shopping and just old fashioned fun! The Faire takes place at Ramona Garden Park in Grover Beach. For more information check out their flyer at www.groverbeachchamber.com or give the group a call at 805.489-9091
Get those dancing shoes on... and ENJOY!
Laura Gurreau
www.CentralCoastFoodTours.com