I Love Where I Live: Join the Fun at "Twilight in the Vineyards"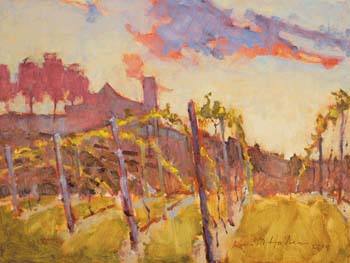 On Monday, October 3rd from 4-8 pm you're invited to a special event to benefit the non-profit San Luis Obispo Museum of Art (sloma). I've always enjoyed SLOMA, and what better way to support their work than with an evening of ethereal beauty, fine wines and great food - a hedonist' delight, to be sure!
This event is restricted to 20 guests and includes a visit to Wolff and Chamisal Vineyards for a private wine tasting while you observe world-class plein air artists as they paint the setting sun over the harvest vineyards. I can't imagine a more pleasurable way to wind down the day. But the event continues as the group heads into downtown San Luis Obispo to enjoy a fine meal at one of our newest restaurants - The Broad Street Tavern. Don't let the name dissuade you, as you're in for an array of gourmet treats. I won't give away the menu, but let me say with dessert being a Dutch Chocolate Crème Brulee... well, let's just say you're in for some wonderful food.
Tickets are limited to a group of 20 and cost $75 for members or $100 for nonmembers, so get your tickets soon!
Online:
www.sloma.org
Phone: 805.543.8562
Enjoy!
Laura Gurreau
www.centralcoastfoodtours.com