I Love Where I Live! - Let's go Olive Oil Tasting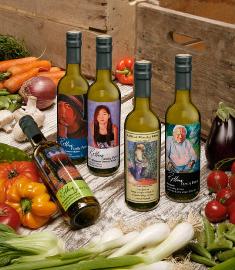 The weather is great, the tasting rooms are open, and there's no time better than the present to get out and do some olive oil tasting.
This Mediterranean climate of ours has blessed us with more than just great weather. Along with our growing renown as a world-class wine region, San Luis Obispo County is also becoming known for the delicious olive oils we are producing. Olive farms are popping up all over the County, embracing us with a fresh pressed, tasty supply of hand-crafted local oils.
On our Food Tour of downtown San Luis Obispo, we stop in at We Olive
www.slo.weolive.com
to provide our guests with an opportunity to learn about the differences and varieties of olive oils, as well as taste them. When we hand people their 'taste' of oil in a small condiment cup and explain the 'proper' way to taste is to smell, swish and drink the oil, a look of terror inevitably appears on otherwise friendly faces. "What ... drink the oil!" I've heard many a taster retort.
You see, fresh Extra Virgin Olive Oils each have a unique flavor based on the types of olives used and maturity level when pressed - so each oil truly has it's own unique taste signature. Discovering what you like... and what you l-o-v-e is inevitably worth the tasting protocol and effort. I've seen even the most die-hard skeptics emerge from this tasting experience convinced they've found a soul mate in the form of this or that exquisite olive oil.
Below are a few of the many olive oil producers in the County. Each has a tasting room and will welcome your desire to learn about and taste their oils. Be sure to call for tasting room hours of operation and driving directions!
Tiber Canyon Ranch located in South County - www.tibercanyon.com
Olea Farm: located in North County - www.oleafarm.com
Willow Creek Olive Ranch/Pasolivo located in North County - www.pasolivo.com/pages/Tasting-Room.html
And, if you want to go to a single location and taste a wide variety of olive oils from throughout the County consider a stop at my favorite olive oil source "We Olive", with stores in downtown San Luis Obispo, and one in Paso Robles
www.weolive.com
.
Perhaps best of all is the upcoming "8th Annual Olive Festival" scheduled for Saturday, August 20th from 10:00 am - 5 pm in the beautiful downtown Paso Robles City Park. It's fun, free and has all things OLIVE!
Now that you are properly informed - get on out there and find your special olive oil!
Laura Gurreau
www.CentralCoastFoodTours.com