I Love Where I Live: Meet Me at Castoro Cellars for a Rockin' Block Party!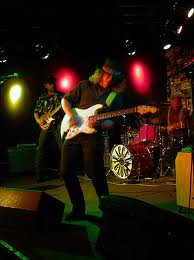 My favorite recipe for fun: a healthy dose of sunshine, world-class wines, tasty food, and top it all off with some great tunes. What do you have? You've got an old fashioned "Block Party"!
Castoro Cellars is well known for throwing together fun, casual events followed by the locals. When visitors get wind of these events, AND get their tickets before they sell out (which they consistently do), then they're onto a real vacation 'find'.
So... Listen up: You're about to get your 'find' for the July 4th weekend!
Castoro Cellars is hosting this year's Neighborhood Block Party on Saturday, July 2 from 6:00 pm - 9 pm.
The event includes tasting from 14 wineries:
• Berardo Vineyards & Winery
• Castoro Cellars
• Croad Vineyards
• Doce Robles
• Donati Family Vineyard
• Donatoni Winery
• Eagle Castle
• Fratelli Perata
• Grey Wolf
• Hunt Cellars
• Midnight Cellars
• Peachy Canyon Winery
• Rotta Winery
• Veris Cellars.
And, a delicious dinner of Blackened Pork Loin with Veggie Jambalaya, Rice Caesar Salad, Southern Cornbread and a Brownie (catered by Bon Temp Creole) ...PLUS the Rockin' Bluesy tunes of the AJM Band. Now here's the kicker: ALL this for $35/pp!?!
I'm telling you: this is not only a guaranteed great time, but it's a kicker of a deal! You had best act fast, as tickets sell out quickly. Tickets can be purchased at Brownpapertickets.com, or if you need more information give the folks at Castoro a call: 1.888.Damn.Fine

Enjoy!

Laura Gurreau
www.CentralCoastFoodTours.com