I Love Where I Live! - Off to SWEET EARTH CHOCOLATES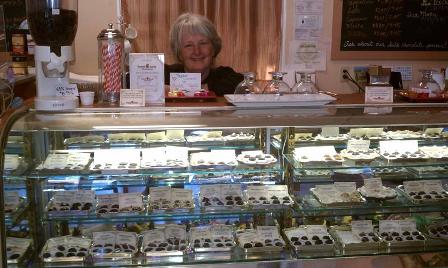 On a friend's tip, I headed over to 1445 Monterey Street in San Luis Obispo to taste what many have long referred to as the "Food of the Gods" - Chocolate!
While most of the chocolate I've tasted wouldn't qualify for this lofty title, I must say the confections from SWEET EARTH CHOCOLATES opened my eyes, palate and heart to an entirely new experience.
First off, and above and beyond all the other things SWEET EARTH is and does, the chocolate and cocoas handmade on location (right here is SLO) are the most luscious, and flavorful of any I've yet tasted. Got to say there's something special about enjoying a hand-made chocolate that's been created, (practically) in your own backyard!
These are not your usual chocolates. While, yes, they do have the "Milk" "Medium" and "Dark" varieties; the true genius of this little chocolate shop rests upon the owners' risk-taking and unabashed creativity in formulating an ever changing array of unusual, though undeniably delicious, confections. My personal favorites are the Curry Coconut Truffle and their Spicy Aztec Hot Cocoa; my husband swears by their Chai Latte Truffle and their Dark Chocolate Caramel sprinkled with sea salt.
With Easter just around the corner, I encourage you to stop by to see what you might find to put in that special Easter Basket. Or, better yet, take a look at what the shop has created http://www.sweetearthchocolates.com/level.itml/icOid/242 as a ready-made basket. Sweet Earth's chocolates and cocoa's are all organic and fair-trade, which makes the sinfully delicious experience of enjoying these chocolates all the more joyful!
I dare you to stop in for a visit at their quaint and mystical retail store on Monterey Street, and NOT find something you absolutely must bring home with you.
For more information, check out their retail store online at http://sweetearthchocolateshop.com or join them on facebook, for regular updates of events at the chocolate shop.
ENJOY!
Laura Gurreau
Central Coast Food Tours