I Love Where I Live: Plan NOW for
Windrose Farm's Annual Tomato Event!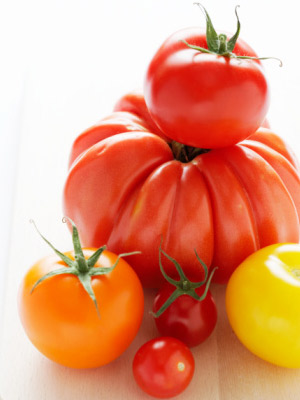 Nestled out in a beautiful valley on the east side of Paso Robles, rests one of the county's hidden treasures: Windrose Farm. Bill and Barbara Spencer, who own and work the farm, have spent 20 years stewarding their land to produce wholesome, healthy organic fruits and vegetables. Their recent transition toward biodynamic farming takes this stewardship to an entirely new level.
In addition to the potatoes, onions, peppers, eggplant, squash, root vegetables, melons, apples and stone-fruit they grow, they are particularly well-known for their heirloom tomatoes. The Spencers have been collecting and saving the seeds of heirloom tomato varieties to grow and share these old time favorites with the rest of us.
If you love tomatoes, and would enjoy an opportunity to taste many hard to find heirloom varieties then mark your calendar for Saturday, September 15th, 2012. Windrose Farm has scheduled two events to share their farm and their heirloom tomatoes with you!
First up is their "10th Annual Windrose Farm Heirloom Tomato Tasting Party" which takes place from 1pm - 4pm on September 15, 2012. It's a fun and delicious afternoon of tomato tasting, artisanal pizza, live music and farm tours. Admission is $25 p/p with discounted pricing for 'farm members'.
That evening, starting at 5:30pm, is their second event an Elegant Country Dinner. This is a china and white linen multi-course meal prepared by Chef Clark Staub of Full of Life Artisanal Bakery and Restaurant of Los Alamos, paired with the fine wines of Tablas Creek Vineyards. Dinner will be accompanied by the music of Choro De Oro. Cost of the Elegant Country Dinner is $120 p/p, again with discounted pricing offered for 'farm members'.
This is a great opportunity to get out to Windrose Farm, meet the Spencers, see and taste these amazing heirloom tomatoes and enjoy a beautiful day or evening out on the farm. Attendance at both events is limited, so you may want to go to their website, http://www.windrosefarm.org/, and purchase your tickets soon.
Enjoy!
Laura Gurreau
Central Coast Food Tours