I Love Where I Live: Try My Roasted Tomato and Goat Cheese Soup!
My husband Yule and I run Central Coast Food Tours, so you can imagine we see and enjoy our fill of wonderful Central Coast Food. Occasionally I get the bug to try and do something special on my own to take advantage of our local bounty and the many artisanal producers.
My recipe for Roasted Tomato and Goat Cheese Soup was a win-win on all accounts: I used the heirloom tomatoes, fresh rosemary, honey and thyme from Jack Creek Farms (a five generation family farm located in Templeton), fresh goat cheese made from hand by Bev Michaels (Alcea Rosea Farm - also located in Templeton), and olive oil from Paso Robles' Kiler Ridge. Imagine that I could find all these fresh ingredients within 10 minutes of my home!?
I loved the idea of roasting tomatoes, thinking doing so would add a nice smoky flavor to the soup - it does. This is not a children's soup: it is most certainly a soup meant for an adult's palate - interesting, complex and delicious with a crust of hearty bread and a glass of your favorite red wine.
Ingredients:
Serves 4
• 14 med. sized ripe or extra ripe tomatoes
• 1 red pepper or 3 small piquillo peppers
• 1 med. sized onion
• 2 cloves of garlic
• 1 TBS of honey
• 2 sprigs of fresh rosemary
• 6 TBS of balsamic vinegar
• 7 TBS extra virgin olive oil
• 4 Cups of water
• 1 dried bay leaf
• Fresh thyme (for garnish)
• ½ Cup of white wine
• ¾ Cup of fresh goat cheese (chevre)
• Salt and pepper to taste
1. Start by quartering the tomatoes. Remove the core and seeds (scraps) and put cleaned tomatoes in a bowl.
2. Toss the tomatoes, chopped red pepper, chopped onion, minced garlic, honey, rosemary, 2 TBS. of vinegar, 3 TBS of Extra Virgin Olive Oil, salt and pepper to taste. Allow to marinate for 1 hour.
3. Spread the mixture on a baking sheet and roast in a 400 degree oven for 1 hour. Check every 20 minutes or so to prevent charring.
4. Combine the tomato scraps, bay leaf and 4 cups of water in a soup pot and bring to a boil. Decrease the heat and simmer over low heat for 15 minutes.
5. Add the roasted tomato mixture and the wine to the soup pot and bring to a boil. Reduce the heat, cover the pot and simmer for 20 minutes.
6. Let the soup cool. Remove the rosemary and bay leaf.
7. Add the cooled soup to a blender and mix until totally emulsified. Then, add in the goat cheese. Add salt and pepper to taste.
8. For individual servings: Put soup in a small bowl and reheat to serving temperature. Drizzle 1 TBS. of the olive oil over the top. Add 1 TBS. of the balsamic vinegar in the center of the soup. Add the fresh thyme to garnish.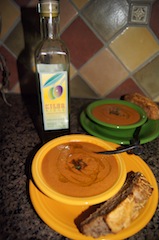 We enjoyed our soup with a bottle of Anglim's Jack Ranch Vineyard Pinot Noir.
Enjoy!

Laura Gurreau