I Love Where I Live: Try Templeton's Concerts in the Park!
Even amongst us locals, the north county town of Templeton remains a gem seemingly lost in time. Originally constructed as part of the multi-stop Southern Pacific railroad entre through the Central Coast, and initially named "Crocker" after one of the four railroad barons, Templeton has managed to retain its early charm.
The town is oriented around a lush green square with the traditional gazebo. You have historic homes lining the square; an authentic, and still functioning grain mill anchors this sweet town known by locals as "Templeton Feed." Farmers come from throughout the county to buy their feed here. Templeton Feed carries the tradition of providing wholesome, healthy feed at farmers' prices.
So… what's to do on a Wednesday in the park? Well, get your lawn chairs and a picnic and stake your piece of land for one of our countywide "concerts in the park." The music varies from Country to Reggie… but the real fun is in sharing a laid-back evening among friends. Look around and you'll see young families, older folk and the locals just having a good old-fashioned time of it.
The music line-up through the rest of the summer consists of:
August 1: " Unfinished Business" – 60's Rock
August 8: "Monte Mills & the Lucky Horseshoe Band" – Country
August 15: "Damon Castillo Band" – Pop Rock /Soul
August 22: " Martin Paris Band" – Pop, Rock & Country
Concerts run from 6:30 to 8:30 pm from June 13th – August 22nd. Admission is FREE and food is available on-site. Street parking is free.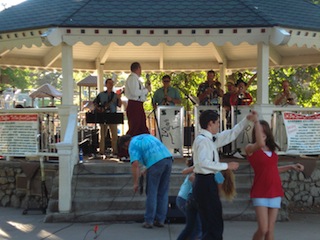 For more information: http://www.templetoncsd.org/Library/Matters_Ad.pd
For those of you visiting from out of the area… this is a sweet find!
Enjoy!
Laura Gurreau
Central Coast Food Tours