It's a Family Affair!

Celebrate Restaurant Month at Vieni Vai this Evening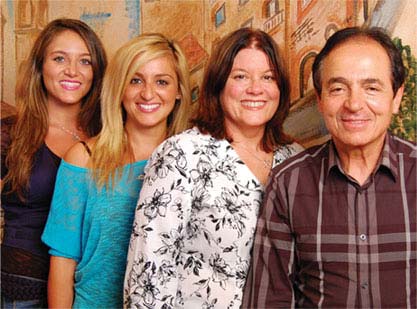 Meet Debra & Giuseppe Silvestre, owners of Vieni Vai, the family owned and operated Italian restaurant located in the charming downtown area of San Luis Obispo.

The story began in the south of Italy in 1965. As a young boy, Chef Giuseppe Silvestre, discovered his love for cooking. His passion was further developed by spending hours in the kitchen, learning from his mother Giovanna. Rolling the fusilli, smashing the tomatoes and breading the eggplant was not just cooking to Giovanna, it was an art, and this mentality was passed down to her son. Giovanna encouraged her son to pursue his dream. She sent him to a culinary academy in Rome where he developed his own style of cooking, while maintaining the traditional Italian cuisine. With his degree in hand, Chef Giuseppe traveled to America with the dream of someday opening his own Italian restaurant. From there, he met his wife Debra Silvestre, and together they opened a series of thriving restaurants. Although it wasn't until they opened Vieni Vai in downtown San Luis Obispo that they truly felt at home. Vieni Vai is a symbol of their hard work and sacrifice through the years. They have immense pride in the food they serve, and are happy to offer the people of San Luis Obispo a piece of their culture.

Celebrate San Luis Obispo County Restaurant Month at Vieni Vai this evening for a delicious 3-course menu for only $30! And, enjoy a glass of Wolff Vineyards wine as it is Wine Wednesday!! Great food, fantastic wine and the friendliest company - what more do you need?

Listen in to this great one-on-one interview to learn more about Vieni Vai and Wolff Vineyards.
CLICK HERE!

See you at Vieni Vai this evening!

For more information about San Luis Obispo County Restaurant Month.