This coming Saturday, Jack Creek Farms on Highway 46 West will be holding a special Kids Day.
Jack Creek Farms is a great place for kids and parents. There is a very cute store on site, selling fresh heirloom fruits and vegetables, and a wide variety of jams, jellies, preserves, honey etc.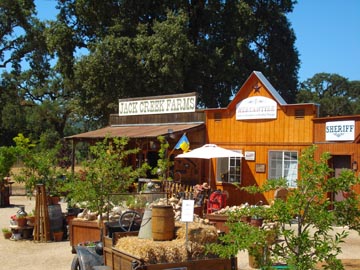 Per their PR Release: Jack Creek Farms will be offering a series of guided mini interactive workshops for children to participate in various farm activities and old time skills. Children will: • Churn Butter • Plant Sunflowers • Press Cider • Make a Cornhusk Doll • Make a Gourd Ornament • Grind Wheat Berries into Flour • Pet Farm Animals • Play on a Haystack • Rope a Dummy Steer • Play in a Hay Maze • Pump Water the Old-fashioned Way • Wash Clothes in a Tub using a Washboard. Cost is just $6 / child, and they will receive goodies to take home as well. See also their PDF poster of the event.

Kids having fun at Jack Creek Farms. (Note: Apple Bobbng is not a listed activity for this event.)

Housekeeping details: Technically, this part of the highway is considered Templeton, but it is effectively "Paso Robles". It is not too far from Cambria and the intersection of Highway 46 West and Highway 1. (This is a very scenic section to drive - with wonderful views of the ocean form the crest.) If you're wine tasting with young kids, this is a great break that they will enjoy - and you'll like it too. It can often be warm there in summer. Also note: this is Jack Creek Farms, which is not the same as Jack Creek Winery.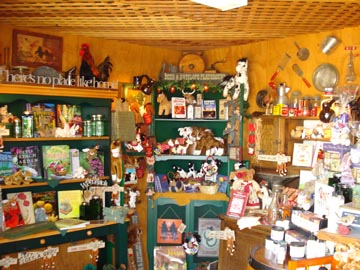 Store interior. This is NOT your parents Farm Stand experience.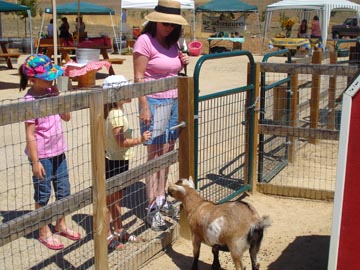 Petting Zoo - Kids about to play with kids.