LADY WASHINGTON, OFFICIAL SHIP OF WASHINGTON STATE, TO CALL ON MORRO BAY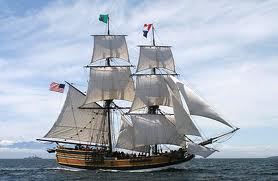 The two-masted brig Lady Washington, the tall ship ambassador of Washington State, will call on Morro Bay November 17 to 20 and offer walk-on tours, public sails, and educational programs for area students. Visitors can board the ship at its berth near 699 Embarcadero Road in Morro Bay. Lady Washington will be open for walk-on tours 4 p.m. to 5 p.m. Friday, November 18, and 10 a.m. to 1 p.m. Saturday and Sunday, November 19 and 20.

At 2 p.m. Saturday and Sunday, Lady Washington will hosts guests for three-hour Adventure Sails, which feature an opportunity to raise a sail with the crew, sing along with a shanty, and take the tiller of a real tall ship, conditions permitting. Tickets are just $35 each. Early reservations are strongly recommend. Adventure Sail programs at earlier stops have sold out quickly. Purchase tickets online at www.historicalseaport.org or call 800-200-5239.

Lady Washington will also host K-12 students for one-hour dockside educational programs. Students will come from schools and home-school groups in Morro Bay, San Miguel, and San Luis Obispo. To learn more about our education programs, visit the Historical Seaport website, www.historicalseaport.org, or contact Roxie Underwood, programs manager, 800-200-5239, education@historicalseaport.org.

In 2007, Lady Washington was named the official ship of the state of Washington by the state's Legislature. The ship travels to more than 40 ports in California, Washington, Oregon, and British Columbia annually as an ambassador for its home port of Grays Harbor on Washington's Pacific Coast. Lady Washington has appeared in several movies, including the 2003 Disney motion picture, Pirates of the Caribbean: The Curse of the Black Pearl. The Grays Harbor Historical Seaport Authority, which owns and operates the Lady Washington, is celebrating its 25th birthday this year.