Lavender is Blooming in Paso Robles
Lavender season is upon us, check out all that it has to offer! And don't miss the amazing lavender mint tea punch recipe below!
Mmmm....the smell of lavender is in the air! Just a whiff of lavender has the ability to instantly relax me. I look forward to the month of May because I know that I'll be receiving a call from a lovely woman by the name of Lila at Central Coast Lavender Farms. That phone call means that the farm is officially open. There is a short window of time each summer before harvest when you can actually get a sneak peek behind the scenes and into the world of lavender. That time has come!
Head on out to Central Coast Lavender Farm for a unique look at Organic Lavender Farming here on the Central Coast. You will be able to see up close and personal how Lavender is grown and distilled. You will learn about the different varieties of this extraordinary herb as well as its historical uses in both aromatherapy and culinary dishes. You are also welcomed to stroll the many fields of lavender for a unique look at sustainable agriculture. Embark on a seasonal but amazing, self-guided tour of all things lavender.
The Farm is open during bloom on the following dates in 2012:
Friday & Saturday, May 18th and 19th, 10:00 - 5pm.
Friday & Saturday, May 25th and 26th, 10:00-5pm.
Friday & Saturday, June 1st & 2nd, 10:00 - 5pm
Friday & Saturday, June 8th & 9th, 10:00 - 5pm
Friday & Saturday, June 15th & 16th, 10:00 - 5pm
(Closed June 22 and 23 for the Ojai Valley Lavender Festival)
Friday & Saturday, June 29th & 30th, 10:00 - 5pm
Private tours of the farm are available from mid-May through June. If you are interested, just email the farm to discuss availability. Visit the farm during the Lavender Bloom Celebration where you can tour the fields, enjoy distilling demonstrations, sample lavender goodies, learn about growing, discover the many uses of lavender and much more! Check their website to keep up to date on the Bloom Celebration and more.
While I have lavender on my mind, make sure you add the Central Coast Lavender Festival to your calendar on July 14, 2012. This free event celebrates 'everything lavender' and you will find lavender cuisine, oils, dipping sauces, ice cream and education. You will enjoy demonstrations, vendors, music and children's activities all day long.
Since summer is (almost) upon us, I can't leave you without sharing an amazing, refreshing recipe for Lavender Mint Tea Punch, compliments of Central Coast Lavender. De-licious!
Lavender Mint Tea Punch
6 teaspoons dried mint
6 cups boiling water
1 tablespoon Central Coast Lavender Farms organic dried lavender blossoms
1 liter ginger ale
1 cup purple grape juice
Ice cubes with fresh mint leaf frozen in each
Brew the mint in the water in a teapot for ten minutes. Add the lavender blossoms to the pot. Allow tea to cool. Strain the tea and add the ginger ale, grape juice and ice cubes. If serving in a punch bowl, float lavender buds and mint sprigs on top.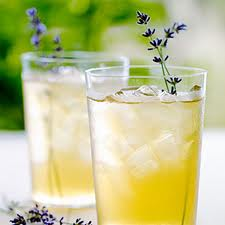 by Tina Swithin
Central Coast Lavender Farm
(805) 233-3288
Toll Free: 1-888-327-6528
Tina Swithin is the Marketing Coordinator and Blog Manager for TravelPaso.com where she writes Pairings in Paso and other blog-a-licious Paso Robles articles. Follow the Paso Robles Insider to get the inside scoop on all the haps in Paso Robles Wine Country.