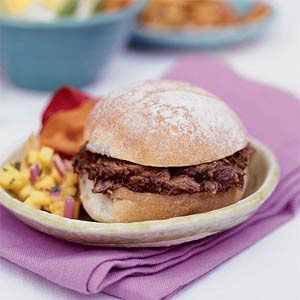 By Tina Swithin
Lately, I've had Zin on the brain. It isn't surprising given that March is the Paso Robles Zinfandel Festival. My friend, Coy Barnes of the Wine Wrangler recently said, "Zin is the anti-snob wine". I like that. One of my favorite Zins is from Opolo Vineyards in Paso Robles- the 2010 Mountain Zin. The mere thought of it makes me happy inside. While visiting the Opolo Vineyards tasting room last week, I was lucky enough to sample it with their delicious spicy sausage cooked right on the patio grill. After I add in the fact that it was a beautiful 73 degree day in Paso Robles, I promise to quit bragging.
While I was basking in the sun and enjoying the beautiful day (I know, I know. I had promised to quit bragging), Alanna Davidson of Opolo placed a delicious recipe in my hot little hands. Opolo's famous Spicy Pulled Pork Sandwich. Alanna was kind enough to share it with me and now, I will share it with Inside Paso Robles. Without further ado, grab your 2010 Mountain Zin and let's make some sandwiches!
Opolo's Spicy Pulled-Pork Sandwiches
Yield: Makes 8 to 10 sandwiches
Please note: The spiced pulled pork filling for these sandwiches can be made (through step 4) up to 2 days ahead; cover and chill. Bring to room temperature (or warm slightly in a microwave oven) before filling sandwiches. Call your very best friends and serve sandwiches piled on a large platter.
Ingredients
1 1/2 pounds boned pork shoulder or butt, fat trimmed
4 ounces green onions, rinsed, ends trimmed, and coarsely chopped
2 cloves garlic, peeled
2 fresh Fresno or other hot green chilies (about 1 oz. total), rinsed, stemmed, and seeded
2 tablespoons tomato paste
2 tablespoons brown sugar
2 teaspoons ground allspice
1 teaspoon ground dried thyme
About 1 teaspoon salt
About 1/2 teaspoon pepper
1/4 cup cider vinegar
8 to 10 soft dinner rolls (about 1 oz. each), sliced in half horizontally
Preparation
1. Rinse pork and pat dry.
2. In a blender or food processor, whirl green onions, garlic, chilies, tomato paste, brown sugar, allspice, thyme, 1 teaspoon salt, and 1/2 teaspoon pepper until finely chopped. Add vinegar and whirl until smooth. Scrape mixture into a heavy 5- to 6-quart pan. Add pork and turn to coat completely. Cover and chill at least two hours or up to one day.
3. Add 1 cup water to pan, cover, and bring to a simmer over medium-high heat; reduce heat to very low and simmer pork, turning once, until meat is very tender when pierced and shreds easily with a fork, 2 to 2 1/2 hours.
4. Remove from heat and let cool about 15 minutes. Transfer meat to a bowl. Skim and discard fat from surface of cooking liquid. Measure liquid; if there's more than 1 1/2 cups, boil over high heat until reduced to 1 1/2 cups. With a fork or your fingers, pull meat into thin shreds; remove and discard fat. Mix meat with cooking liquid. Add more salt and pepper to taste.
5. Spoon about 1/4 cup pulled pork onto each roll bottom; set tops in place.
Opolo 2010 Mountain Zinfandel Tasting Notes:
This is an aggressively fruity, dark, and rich wine. Jammy aromas follow through predictably to the fruit-forward flavors and the lush, round mouthfeel. The finish is long and satisfying. This wine is bold enough to accompany spicy fare brilliantly - try it with spicy sausage like Andouille (or Opolo's own Cevap Cici!)
Tina Swithin is the PR Coordinator and Blog Manager for TravelPaso.com where she writes Pairings in Paso and other blog-a-licious Paso Robles articles. Follow the Paso Robles Insider to get the inside scoop on all the haps in Paso Robles Wine Country.