Foremost Wine Co. in downtown San Luis Obispo. Chef Julie Simon is constantly changing the menu to reflect the changing of seasons and the inspiration she gathers from local ingredients. Find out more about Chef Julie including what she likes to do when she's not filleting whole hogs and what her favorite trend is right now in SLO CAL.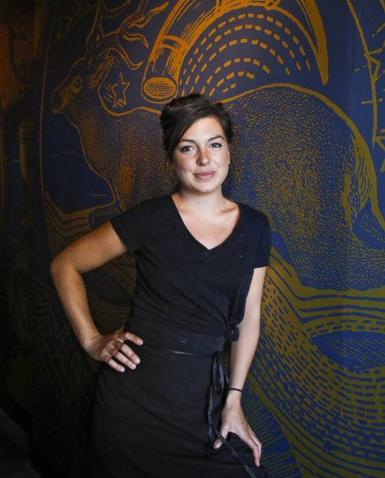 How did you get started?
I forged a passion for cooking at a very young age. I was born in a family of epicureans, who love to cook and entertain. They taught their children how to cook, as if anything, it was a survival skill to acquire. The kitchen has always been my home's beating heart, and that's always where you would found me, always thinking of the next meal to cook. I had never dreamt to be a chef then. I moved to California from France, 10 years ago, and scored a dream job under Pandee Pearson and Neil Smith at Windows on the Water for the summer. The summer rush over, I just couldn't return home, I was hooked.
What do you like to do when you're not 'cheffing'?
Be outside! Some beach, mountain, muddy trail, swamp, snow, rain, sunshine, on a board, on a horseback, sleeping under the stars, wake up in the middle of nowhere, backpacking, I'll take it all, and as much as possible.
Dinner parties, dance parties, bonfires, food fights. I like to read, cookbooks, with pictures, for every recipe.
And if I can skim more than two days, on an airplane, onto someone else's food culture.
What is one of your favorite culinary trends you've seen in SLO County?
Chefs / Restaurant showcasing craftsmanship.
Industrialization caused a penury of artisans, worldwide.
I know the kind of bread I would like to serve, but even if I found someone to produce it, could I even afford to serve it?
Chefs must draw the line somewhere.
What will we produce? What will we outsource?
You do too little and suddenly you realize you are scoping Sysco's catalog for your Friday night special. Or, you do too much and the health department gets a call, your rooftop fish sauce project? Yeah, it didn't work.
My point is, we all pick our battles, and I'm so happy to see chefs celebrated for the crafts they dedicate themselves to. Rather it's charcuterie, bread-making, butchering, fermentation, foraging or a unique cocktail program, there is more and more to experience in SLO.
What inspires you when you're creating a new menu?
People!
You tell me a good story about food. Your grandma's wild blueberry pie in Maine: your whole life you thought blueberries were transients, you just turned thirty-two and a half, and you now understand how long it takes to gather enough berries for a pie. Grandma loves you, but she is not making it twice for you, 'til next year.
That time you walked into a trattoria in Piedmont, you did not understand that the tasting menu actually implied that you were going to be fed for four hours. You didn't know you LOVED soup, nor chicken terrine, but then came the egg yolk raviolo, then they brought pasta, another pasta, followed by risotto, there was truffle everywhere, your plate was refreshed, and then! They brought meat, and there was a bird, you quickly filed it under "quail" but you KNOW IT WAS NOT, it was followed by hare, and some wild pig, and venison… and when finally you thought you would settle for JUST the pannacotta, the cheese cart arrived, you are hanging out at the bottom of that second bottle of Barolo, you are fluent in Italian, actually you ARE Italian now, you married the busboy, just in time for your dessert trilogy: Pannacotta, Tiramisu, Semifreddo. That's how you'll name your children…
Whether it's your deer hunting stories in Ohio, the fried mussel skewers on some Turkish docks you once roamed, the birthday dinner you thought you would be dead to see…
I love hearing people talking passionately about their (food) memories.
What is one of your favorite things to make at home?
Currently, Indian food! That was my Christmas dinner theme. I learned so much and I'm not done with it yet…
But lots and lots of veggies, at home it's 99% plant-based.
A go to these days is:
Toss some whole carrots with olive oil, fennel seeds, and salt. Pop in a hot oven, and roast until soft in the inside and leathery on the outside. Meanwhile, shave a fennel bulb, squeeze a Meyer lemon from a tree nearby. Harvest an assortment of fresh herbs in the garden, barely making it… (dill, tarragon, mint, chives, chervil…)
Chunk the carrots, a drizzle of hazelnut oil, crushed hazelnuts, sea salt, toasted poppy seed or sesame, pomegranate seeds (different neighbor). You can do some thin batons of gruyère, comté or crumble some feta cheese. Et voila!
What is your favorite thing to make at the restaurant?
Currently. Lamb Shank.
We recently received a lamb from Windrose Farm. Once all broken down, we rendered all of the fat from the carcass slowly in the oven. I was compelled to do a confit, which I had never done with lamb in that fashion before. We heavy-handedly salted some shanks overnight, to draw the moisture out. And then completely submerge them in the lamb fat (supplemented with some other fat collectibles), Windrose also produces wonderful smoked garlic and tomato, those, go in too. Now low and slow in the oven, until the meat is fork tender (5hours). Pull the shanks. We then crust them with a mixture similar to tandoori, heavily spiced, tones of crushed almonds and garlic confit. Flash them in a hot oven until they get super crusty.
The forecast is rainy. Do you need a home improvement project? Make some confit!
Head over to Foremost Wine Co for Raw night, brunch, happy hour with the girls or a dinner with your sweetheart. No matter what you do, make sure you say hi to Chef Julie.