Sweet potato tortellini with
coconut lime sauce

Written by Chef Michael Wood, Robin's Restaurant in Cambria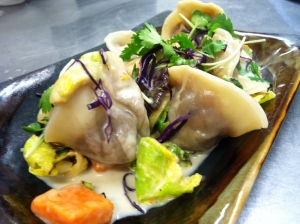 Vegetarian tortellini dish, made in Robin's kitchen in Cambria. Photo: Randol White

SWEET POTATO TORTELLINI WITH COCONUT LIME SAUCE
Serves: 4-6 people
Even in California's incredibly temperate and produce-friendly climate, January can be a challenging time for chefs to create fresh and locally-sourced menu items.
Chef Michael Wood with Robin's Restaurant in Cambria was up for the challenge however, and created this rich and tasty appetizer or main course dish using locally grown sweet potatoes.
NOTE: In the video of preparing the dish (see below) Chef Michael adds sautéed mushrooms to the sauce - a great addtion not listed in the recipe's ingredient list.
Robin's Restaurant is part of San Luis Obispo County Restaurant Month.
Watch Chef Michael prepare this dish tonight on our LIVE Market Fresh program.
INGREDIENTS:
2
14 oz. cans
coconut milk
4
cups
vegetable broth
2
Tbsp.
soy sauce
¼
cups
ginger
2
Tbsp.
fish sauce
¼
cup
scallions
¼
cup
lime juice
2
Tbsp.
olive oil
2
cups
sweet potato peeled & chopped
½
cup
yellow onion chopped
2
Tbsp.
garlic chopped
½
cup
red cabbage chopped
1
whole
egg beaten
24
round
wonton wrappers
DIRECTIONS FOR SAUCE:
Combine the coconut milk, 2 c broth, soy sauce, ginger, fish sauce, 2 T. ginger, scallions and lime juice in a sauce pot and bring to a simmer. Cook for 10 minutes and strain. Reserve for later use
DIRECTIONS FOR FILLING:
Heat the oil in a heavy bottom pan over medium heat. Add the onions, ginger and garlic and cook until softened. Add the sweet potato and cabbage and 1/3 of the remaining broth. Simmer until the sweet potatoes are soft and the liquid is almost gone. You may need to add more liquid. Mash the mixture together.
Lay out wonton skins on table top and place ¾ Tbsp in the center of each. Brush one edge of each skin with egg. Fold each once in half pressing edges firmly to seal. Brush the backside of one corner with egg and bring it around to pinch together with front side of other edge to form a tortellini.
Boil the tortellini in salted water for about 5 minutes or until they float. Serve with sauce and fresh sautéed vegetables.