Meet Chef Neil Smith, Executive Chef of Windows on the Water in Morro Bay
"Food is really just another form of art! A dish should look enticing, stimulate your sense of smell, and satisfy your sense of taste."
Neil Smith, Executive Chef
Take a walk down the Embarcadero in Morro Bay and you'll find unique stores, surf shops, gorgeous views, and fantastic restaurants, of which is Windows on the Water. Perched directly on the waterfront, Windows on the Water offers seasonally changing menus that benefit from the purveyors of fresh fish, vegetables, fruit and herbs right here on the Central Coast. Today, get to know the man behind the chef's coat at Windows on the Water, Executive Chef Neil Smith.
Neil's Career:
His career began as an after-school job. Neil Smith started working in a Chinese restaurant in Pagosa Springs, Colorado when he was of barely legal age, only 14 years old. And, as he says, his first duties were "just flopping woks." Graduating to fine dining, Neil apprenticed under locally celebrated chef Yale Espoy at Isabel's, before moving to California. Neil was Banquet Chef under Paul Kwong at Embassy Suites and Christian Reya at The Gardens of Avila at the Sycamore Mineral Springs Resort, before being lured to Windows in 2012 as Sous Chef.
In 2007, the opportunity came to assume the Executive Chef's position at Windows on the Water.
How does Chef Neil describe his cuisine?
It's World Cuisine, a melding of all the foods, flavors and aromas we are privileged to enjoy in California.
What is one of Chef Neil's favorite things to do?
Neil loves to taste beer! While "wine is fine," he thinks beer selection is an underappreciated "artform" that should be enjoyed more frequently with good food.
Which local beers are his favorite, you ask?
Firestones' Union Jack IPA and Figueroa Mountains' Lizard's Mouth IPA
What part of the job does Chef Neil enjoy the most?
Believe it or not, his favorite thing is being the "traffic control" in the kitchen on a busy night. Chef Neil values his kitchen staff immensely and
enjoys the familiar camaraderie that goes with a well-trained team.
When he's not in the kitchen, what does Chef Neil like to do with his free time?
Neil loves spending time with his daughter and engaging his other passion, music.
Chef Neil: In The Zone from Visitor TV on Vimeo.
Chef Neil has a passion for the food he serves and wants to share that with you. Check out his award winning recipe for:
Local Black Cod with a Warm Garlic Herb & Heirloom Tomato Salsa, Wilted Spinach, Avocado and Prosciutto Caponata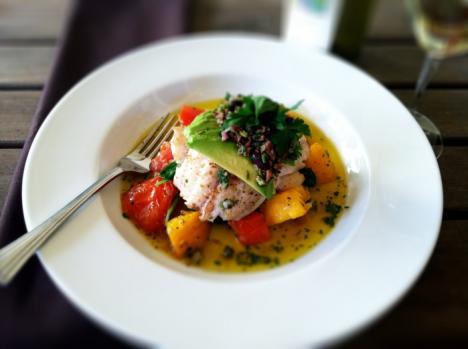 5 oz Black Cod Filet (skin off)
¼ avocado, sliced
1 heirloom tomato (large dice)
2 garlic cloves, chopped
1 shallot small dice
1 tsp fresh thyme, chopped
½ bunch fresh spinach
For Caponata:
1 celery heart & leaves chopped
4 kalamata olives hand torn
1 tsp capers
1 tbsp caper berries, chopped
1 shallot finely chopped
1 tbsp parsley, chopped
2 tbsp prosciutto, chopped
3 tbsp extra virgin olive oil
Pinch of fresh cracked black pepper
For the Caponata: add all ingredients except for the prosciutto into a mixing bowl and mix together. Bake or sautée the prosciutto until crispy. Combine with the rest of the ingredients. (set aside)
Season and sear the Black Cod with olive oil in a large sauté pan on one side. Turn over and place in a pre-heated oven at 375˚ for approximately 3 minutes or until done.
For the Salsa: Coat a small sauté pan with olive oil and add the chopped shallots, garlic and thyme. When the garlic starts to caramelized or turn golden brown add the tomatoes. Cook together for 45 seconds. Sauté the spinach with a little olive oil in another pan and season (salt & pepper)
Place the warm salsa in a large serving bowl so that the residual liquid stays in the center. Place the sautéed spinach in the center on top of the tomatoes. Place the Black Cod on top of the spinach followed by the avocado fan. Spoon the Caponata lastly on top and finish with a drizzle of lemon olive oil and fresh parsley sprig.
Enjoy making it for yourself or come into Windows on the Water have Neil make it for you! January is Restaurant Month, so head over and try their menu now.