Milestone Tavern is one of San Luis Obispo's newest dining establishments located in a recently renovated area on Foothill Blvd near Cal Poly. With nearly 80 beers and wine on tap, a fantastic indoor-outdoor feel plus delicious pub fare (with a San Luis Obispo twist), Milestone Tavern should be on your list of must-dine restaurants when you visit San Luis Obispo County. Get to know the man behind the cutlery, Executive Chef Mike Duffy.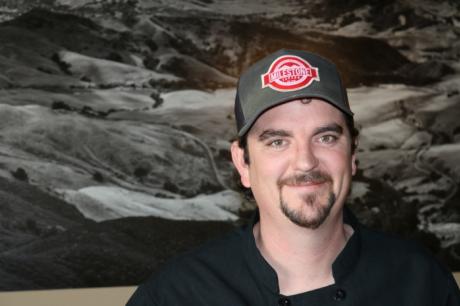 How did you get started?
By the time I was 15, I pretty much knew I wanted to be a Chef. My first job was as a dishwasher and I just moved up from there. I had an amazing mentor named Christopher Paul Bonora. He took me under his wing so I was fortunate enough to learn firsthand from an established Italian Chef. Our Chicken Christopaulo Sandwich is actually named after him. From there I did some private catering, about 10 years at Novo, and then the opportunity at Milestone came my way.
When you're not 'cheffing' what do you like to do?
I don't have much "free" time anymore but when I'm not at the restaurant I enjoy spending time with my kids. I've always enjoyed golf and roller hockey.
What is one of your favorite culinary trends you've seen in SLO County and why?
I love the focus on sourcing local products directly from farmers, bakers, etc. It's a great way to build a connection with the community and also have more control over the quality of ingredients.
What inspires you when you're creating new recipes or menus?
I always enjoy the challenge of learning something new. For instance, at Milestone I was lucky enough to get a brand new kitchen with all the bells and whistles. Not a lot of restaurants smoke and cure their own meats so I had a lot of fun learning about that entire process and incorporating those techniques into dishes on our menu.
What is one of your favorite recipes you love to make at home?
I like to make carnitas tacos with the "picnic" cut of the pork shoulder. The crunchy skin is not for everyone but my kids love it!
What is one of your favorite recipes to make at the restaurant?
Definitely our Pastrami Sandwich. There is so much TLC that goes into every one. In general, the brisket is brined for 5 days, smoked for 5-7 hours, and then steamed for 1-2 hours. Each brisket responds differently depending on the size so there is a lot of love that is put into each step of the process.
Check them out all month long during RESTAURANT MONTH and be sure to say 'Hi' to Chef Duffy!