Get our your wet wipes because today we're talking barbeque with Chef Brian Appiano, owner of Rib Line In San Luis Obispo and Grover Beach. From mouthwatering ribs to a slew of sides that'll make it hard to choose just one (or two), Rib Line's menu lineup is a barbeque lovers dream. Get to know Chef Brian and head on down to a Rib Line location on Los Osos Valley Road or Broad Street in San Luis Obispo or Rib Line by the Beach in Grover Beach and say hello.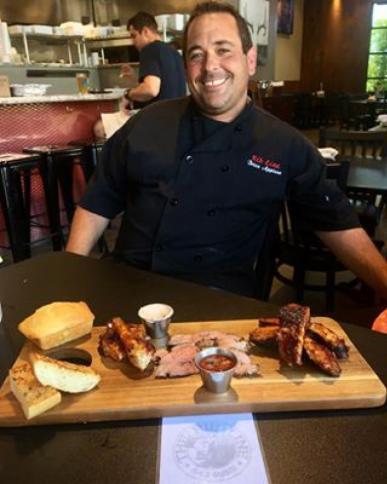 Hi Brian, tell us a little bit about you!
I started making housemade sauces for Vito's Pizzeria up in the Bay Area back in high school and continued along the Italian food path while attending Cal Poly for my economics degree with a concentration in marketing. From tossing and cooking wood-fired pizzas for the original Cuginni's to making pasta for Upper Crust, I just loved the kitchen and creating flavors. I re-opened the original Rib Line on LOVR about 8 years ago, tweaked old recipes, upgraded the products and focused on quality. Since opening, we have won first place in 23 out of 28 food cook-offs from here to Orlando, Florida competing in chili, bacon, mac n cheese, and yysters with our most proud award being at the World Food Championships in Las Vegas, Nevada for People's Choice Chili. Recently we were asked to cook for the ESPY's Celebrity Pre-Party in Beverly Hills which has led to more high profile events such as the upcoming NBA All-Star Game in Los Angeles.
Tell us a little bit about the restaurants:
From grill n' chill, to wine & dine…it's always Rib Line time. We approach BBQ from a foodie standpoint. Our small batch, house-made dry rubs and bbq sauces shared between the restaurants are the beginning of what sets us apart from others. My "late night" creations such as our Beach Balls (deep fried, hand-rolled sweet potato balls with bacon, jalapeno, and cheddar…it gets better, have become local favorites, as well as our adaptations of popular dishes like pommes frites.
What do you love most about having a restaurant in SLO and Grover Beach?
I love having restaurants on the Central Coast because I love where we live! In SLO we have our regulars that come in and share stories with us and in Grover Beach we get a lot of the tourists that visit us every time they visit Pismo or the Oceano Dunes.
When you're not in the restaurant, what do you like to do?
I love spending time with my wife, Krystal, and three kids, Aubrey (7), Austin (5), and Autumn (2.99) as much as I can. I realize there will come a time when they won't want to hang out with dad as much…then I'll play more poker 😊
What inspires you when you're creating new recipes or menus?
There's nothing more exhilarating than creating something new, having someone taste it and them being blown away by your flavors. It's also the thing that keeps me up at night and wanting to figure out my next "new" thing. After winning the oyster cook-off for our black truffle bbq'd oysters, the chili cook-offs with my Triple Threat Tri-Tip Chili, the bacon cook-offs with my Beach Balls, the mac n cheese cook-off at Cal Poly…I put a lot of pressure on myself to make something great or don't make it at all.
What is one of your favorite recipes you love to make at home?
My favorite is pancakes because all of my kids want to help…so I let each of them have a different part of the process. It's by far my favorite to make. In terms of adult cooking – I do an amazing seafood pasta with a white wine and cream sauce.
What is one of the most popular menu items?
Tri-Tip and Babyback Ribs are our most popular items in terms of overall numbers. But beyond the standards…our Beach Balls and pommes frites are popular everywhere. At the Broad location, we go through a ton of salads – mostly our Farmer's Market fresh fruit salad
On this year's Restaurant Month we are featuring our Charred Corn, Avocado, and Tomato appetizer (recipe below). This item will become a regular menu item with our new menu coming out soon.
Charred Corn, Avocado and Tomato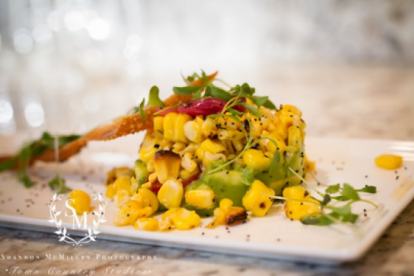 1 Corn on the Cob
1 Avocado
8 Grape Tomatoes slices in half lengthwise
Meyer Lemon Oil
Jalapeno Oil
Lime
Cilantro Micro Greens
Wonton Papers
Canola Oil
1) Place Corn on the grill or over fire to cook
2) Dice avocado and drizzle jalapeno oil, then salt & pepper
3) After corn is cooked, shave all the kernels off the cob and drizzle Meyer lemon oil, then salt & pepper
4) Cut wonton wrappers in half, and fry until crispy
5) To plate, place avocado on the bottom and top it with the corn. Spread the slices of tomatoes on top and lightly salt & pepper the tomatoes. Squeeze the lime over the dish and top it with cilantro micro greens. Serve with fried wontons for scooping