Are your taste buds ready for delicious, traditional Moroccan food? Nestled in the heart of downtown San Luis Obispo, Oasis Restaurant & Catering has been serving up a flavorful menu bursting with family history and Moroccan spices for over twenty years. Get to know the man behind the spice, Chef Karim Benbrahim!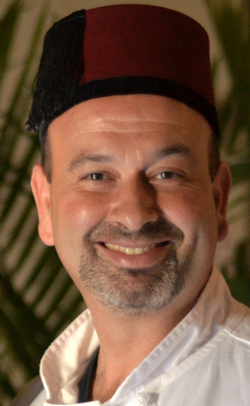 Hi Karim, tell us a little bit about you!
I studied physics at the University Mohamed V from 1987 – 1989. Just before I finished my fourth year to graduate, a friend proposed for me to come to the US to further my education. As a young man I did not turn down the proposal. Once here, I started missing my mom's cooking, so I used to call her for recipes. I opened my first restaurant on Foothill Blvd. in 1994 while going to Cal Poly as a computer science major. Cooking was always in my heart - it is an inner part of me. Based on what my mother taught me, I furthered my cooking experience for the past 23 years to become a Moroccan chef here on the Central Coast and owner of Oasis Restaurant & Catering located in downtown San Luis Obispo.
Tell us a little bit about the Restaurant:
No shortcuts at Oasis Restaurant. Everything is made from scratch - from bread to ice cream and all desserts. At Oasis Restaurant we do it all!
What do you love most about having a restaurant in San Luis Obispo?
It is a very challenging business. Your creativity never stops.
When you're not in the restaurant, what do you like to do?
I enjoy working out, fishing, fixing things and swimming.
What inspires you when you're creating new recipes or menus?
Being different from others to give customers a unique experience.
What is one of your favorite recipes you love to make at home?
Couscous Royale with colorful vegetables and some meat.
What is one of the most popular menu items?
Lamb Kabobs, Lamb au Pruneau, Osso Bucco Tagine, Fish Tagine and Couscous Royale.
Moroccan cuisine has long been considered one of the most diversified cuisines in the world. It is a mixture of Arab, Berber, Moorish, Middle Eastern, Mediterranean, African, Iberian, and Jewish influences. At Oasis Restaurant & Catering, I give the true experience of the Moroccan cuisine using family recipes passed down from Mother to Son.
Next time you're in downtown San Luis Obispo, head over to Oasis Restaurant & Catering for a fantastic Moroccan meal and be sure to say hello to Karim. Don't forget to check them out during Restaurant Month!