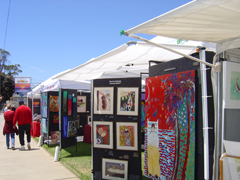 This weekend brings one of my favorite art events in SLO county - the Morro Bay "Art in the Park". This art and craft fair is a juried show, which means that the artists have to apply to show and sell their works there. That keeps the quality level high.

Many artists live in SLO County, but many are from other parts of California.  There must be at least 50 booths there, and they sell the full range - paintings, photos, jewelry, sculpture, glass, pottery etc. Prices range from $10. A few food basic vendors are also present, but since you're near downtown, you can easily get a more elaborate meal within easy walking distance.
If you're traveling with children, the park has a small playground that remains open during the Fair, and there is usually a face-painter or ballon artist there to entertain the kids. So if the kids get bored by the art, take them there for a while to use up some energy.

The money raised by the fair subsidizes the Morro Bay Art Association, which maintains a very nice coop art gallery year-round in the downtown. Go and check out their gallery -  as well as the rest of the downtown - while there.