Twice a year, Morro Bay blocks off streets in its downtown and holds a fun Merchant Street Faire. It always seems to have an eclectic mix of product booths, from both local and out-of-area businesses. There is usually a bounce house for the kids and good local bands playing.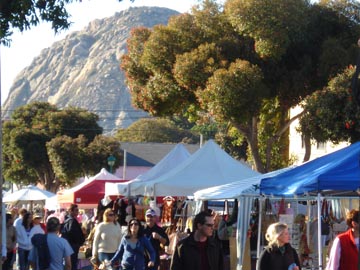 Just some of the products I have seen (and often bought) over the years: gourmet olive oils, scented room oils, very-high quality art glassware, lavender products, scented candles, movie and music posters, baked goods, photography, beaded jewelry and more.

An of course, al this is held in the cute downtown, in the shade of famed Morro rock. If the street booths aren't enough for you, downtown Morro Bay has many great restaurants, antique stores, and coffee shops. I always take the opportunity to see the latest works at the Art Center of the Morro Bay Art Association. This is a local art coop, and since there are dozens of very good local artists, you can always discover some first-rate art available for purchase. (Unfortunately, I have champagne tastes with a beer budget.)

Housekeeping details. Though the weather is usually great, wear layers in case it gets cool. Wear comfortable walking shoes. Try to bring a fair amount of cash, since often the vendors have difficulty taking credit cards or ATM. You may have to hunt a bit to find parking on side streets, but I have never had to park too far away. Wine and beer are NOT sold by the vendors, but there are downtown bars and restaurants open. Street Faire happens from 9 - 5 PM.