This Friday, my wife and I intend to go to the Avila Beach Farmers Market. The band performing is one of my local favorites - Cadillac Angels. They perform what they call "Rockabilly Music" - a cross between rock and country. The whole ambiance is unique.
This will be the first time we attend this year. The market is also unique in that it is held on the pedestrian promenade, facing the beach and ocean in downtown Avila Beach. It partially flows onto the downtown pier. (Avila has three piers.) Photo Op: Try to get photos of the farmer's colorful produce with the ocean in back.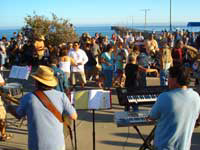 There are usually only about 15 or so farmers at the market, but they do have a really good cross section of produce and flowers. (We always end up buying something to take home.) Typically, there is usually a local olive oil producer, and a local lavender producer as well.
Another unique factor is that there are MANY food vendors: BBQ, fish and other tacos, hummus, seafood, crepes and numerous other delights tempt you to make this your dinner. There always seems to be a bounce house to attract the little kids.
The downtown bar & restaurant combo: Mr. Ricks / Custom House has a large patio on the promenade, RIGHT next to the band performance area. So you can chill to the music while enjoying drinks there. (Food is of course available - try the gooey and wonderful nacho platter - a meal for two people on itself.)
And don't forget, the PDF of the Avila Beach concert series is available on our "Summer Concerts" page.