Lavender, Tomatoes, & Berries, Oh My!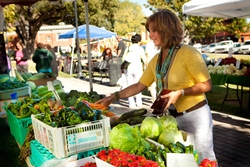 Summer is the perfect time to get out to the many Farmers' Markets throughout the county.

My Top 5 Reasons to Visit a Farmers' Market this Week:
1. Support the hard work of local farmers and keep your dollar in the community.
2. Free samples. There is no better excuse to try something new.
3. Become your own Iron Chef. Pick a mystery ingredient and get cooking.
4. Put a face to your food. Don't be afraid to ask questions.
5. Spend some quality time with family and friends and enjoy the summer breeze.