Easter Break and Spring Tour Dates
2013 Volun-Tour Dates Released!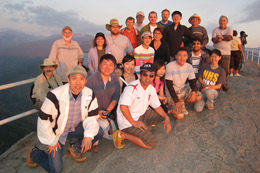 Volun-tour with Nature Corps and experience the best of San Luis Obispo County. Be captivated by the spectacular scenery of the Central Coast and architectural beauty of Hearst Castle, as you work to protect our state parks for future generations. You'll be preserving the legacy for the coast by collecting seeds of endangered flora, replacing invasive vegetation with plants native to the state, and caring for the gorgeous gardens at Hearst Castle. 

Relaxation and play is part of the itinerary: Explore the beaches of Morro Bay, taste the flavors of the regions food and wine, tour the famed Hearst Castle and ship artisan villages. You'll also go on hikes, take a bike ride, kayak across the bay, and enjoy exquisite dining with a view of the coast.

Tours are available for the Easter Break, Earth Day weekend, and immediately following the Remnants of the Past event on June 1. Ready to Volun-tour? For dates and more information visit the Nature Corps.