Central Coast Railroad Festival Announces Monthly Wine-Train Excursions
Sunday Afternoon Excursions To Feature Train Ride up the Cuesta Grade, Visits to Rail Themed Wineries and More!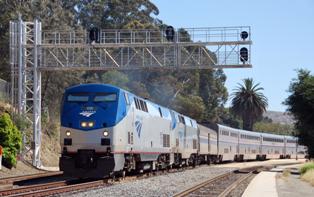 The Central Coast Railroad Festival will sponsor special CCRRF Wine-Train Excursions on the second Sunday of every month starting in December 2011. These Excursions, which were very popular during the 2011 Railroad Festival, will offer local citizens and visitors the opportunity to enjoy this special ride up or down the Cuesta Grade in an afternoon adventure. These rail journeys on the Cuesta Grade will allow riders to experience one of the most historical and scenic sections of the coastal line. Passenger service has been available on this section of tracks since the Southern Pacific Railroad completed them in 1894. The Excursions will also include a little history and visits to rail themed wineries.

The CCRRF Wine-Train Excursions include a trip up the Cuesta Grade to Paso Robles on Amtrak's Coast Starlight, complimentary wine tasting, light lunch snacks, rail history and a private bus trip down to San Luis Obispo. The December 11th excursion will include a stop at Eberle Winery for a private tour of its caves and viewing of its traditional holiday model railroad display. The January 8th and February 11th tours will visit Pomar Junction Winery for a private tasting and tour of its railroad cars and displays. The winter Excursions begin and end at Anglim Winery in the historical Southern Pacific Depot next to the Paso Robles Amtrak Station. They run from 11:30am until 5:00pm. Future excursions (after the summer Daylight Savings time change) will also originate in San Luis Obispo and include stops at other wineries.

Tickets are $49 for adults and $39 for children 15 and under. Each Excursion is limited to 24 friendly guests and will sell out in advance. Tickets are available only online at www.ccrrf.com. Complete Excursion information is also available at the Festival's website.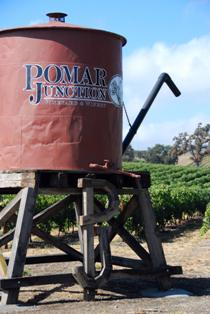 The Central Coast Railroad Festival celebrates rail's history future and fun throughout San Luis Obispo County. The 4th Annual Festival will take place October 4-8, 2012. The Festival also sponsors excursions, concerts and other activities year round. Further information on the Central Coast Railroad Festival, including photos and schedules from past Festivals, and an email notification sign up, can be found at www.ccrrf.com or by calling the Festival office at 805-773-4173.