First Saturdays: Wine & the Arts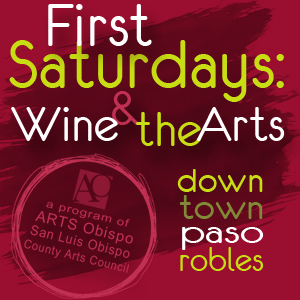 ARTS Obispo/SLO County Arts Council is happy to announce a new program kicking off this January 7th in the downtown of Paso Robles called "First Saturdays: Wine & the Arts." Similar to Art After Dark (held in the city of SLO), First Saturdays allows visitors to walk about from gallery to wine tasting room enjoying the arts and Paso Robles wine.
This program will take place every first Saturday of the month (in case you didn't get that from the title...) from 5-8pm. Look to the Paso Robles Press and ARTS Obispo's website for information and a map of the participating venues.
For more information about this program please contact ARTS Obispo Program Director, Jenna Hartzell:
programs@artsobispo.org
or (805) 544-9251.
FIRST SATURDAYS: WINE & THE ARTS
5 - 8 pm • January 7th, 2012
ARTS Obispo - 544-9251 • programs@artsobispo.org


1. Clayhouse: 849 13th St. 238-7055: Clayhouse will feature local artist and musician, Donna Wolfe and her jewelry designs with local guitarist, John Faget. Wine by the glass or tasting. www.clayhousewines.com

2. EarthTones Gifts & Gallery: 1319 Park St. 238-4413: "Yoga - Union with The Self" by Katrina Toppano. Limited edition fine art Giclee. Launching 2012 with Katrina's Yoga Shields, inspired by Art & Yoga these colorful paintings are centerpieces for movement and meditation. www.earthtonesgifts.com

3. Pianetta: 829 13th St. 226-4005: Pianetta will feature acclaimed local artist Pat Cairns. Her work features beautiful original abstracts as well as other assorted prints. www.pianettawinery.com

4. Studios on the Park: 1130 Pine St. 238-9800: Join us for the opening of the Kids Art Smart exhibition! Works by 500+ Bauer-Speck Elementary students completed during the Fall 2011 program. Reception sponsored by Bauer-Speck PTO. www.studiosonthepark.org
5. Vale Fine Art: 619 12th St. (310) 795-4685: A Little Nightmare Before Christmas: an exhibition featuring Los Angeles artist Edward Walton Wilcox and Lee Harvey Roswell of San Francisco. www.valefineart.com

First Saturdays: Wine & the Arts is a new program for ARTS Obispo/San Luis Obispo County Arts Council. If you are interested in becoming a participating venue please contact the ARTS Obispo Program Director: programs@artsobispo.org or 544-9251. Visit www.artsobispo.org for more information.